CheckForCookies
From ARMwiki
Depending on what you are doing, you will have:
No cookies - anonymous user
Three cookies - logged in user - _session, UserID, and UserName.
Four cookies - logged in user editing pages, as above but adds Token.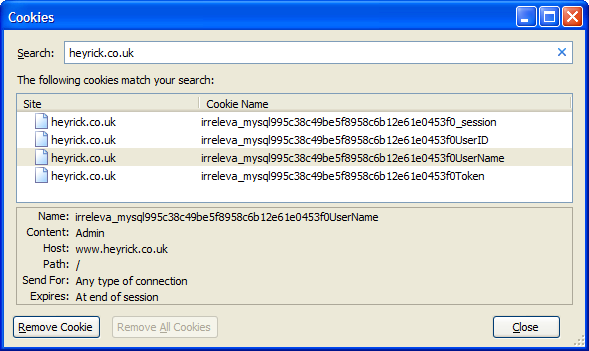 If there are other cookies listed, these may be set by other parts of heyrick.co.uk. The ARMwiki cookies begin irreleva_mysq followed by lots of numbers.
Firefox (3.x)
Click on the Tools menu.
Choose Page Info.
Click the Security padlock icon in the window that appears.
Click the View Cookies button. The cookies will be shown.
Internet Explorer (8)
Press F12 for Developer Tools. A complicated-looking window will open.
Click on the Cache tab.
Choose View Cookie Information.
Close the complicated-looking window. The cookies are visible listed in a new tab.
Opera (9.x)
Click on the Tools menu.
Open the Advanced submenu and choose Cookies....
In the window that pops up, type "heyrick" into the search box. The cookies will be listed.
Android browser (Android 2.x)
One of the (many) privacy issues with the stock Android browser is that there is no mechanism to selectively view and delete cookies. Same with passwords. Likewise you cannot set cookie behaviour on a per-site basis.
You can either put up with an unknown selection of cookies, or you can delete them all. But note that you may have to log in or re-configure a number of services that you use.
How to delete all cookies (think before doing so!):
Press the Menu button.
Tap on More.
Tap on Settings (you may need to scroll down).
Scroll down to Clear all cookie data and tap it.
You'll need to confirm this action.
Oregano2 (RISC OS)
Not recommended, it looks poor due to lack of useful CSS support. Cookies, however, are saved in a textfile at <Oregano2$Dir>.Settings.Cookies. The entries begin "irreleva_mysql".
NetSurf (2.7, RISC OS)
ARMwiki actually looks quite nice in NetSurf 2.7.
Press MENU to pop open the menu.
Open the Utilities submenu.
Open the Cookies submenu.
Choose Show all cookies...
Toggle open the entry for www.heyrick.co.uk.