What is CamCopy?
Ever wish you could plug in your digital camera and have something automatically pull out all the photos and videos and place them in separate folders with some level of intelligence?

What you need is CamCopy!

When CamCopy starts, you should tell it where you wish to read from - select the drive that represents your SD or CF card or camera (or whatever). You should then tell it where to save to - the default location is within My Documents.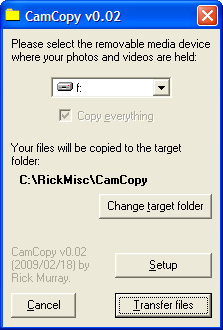 You can set up where files are to be written to, sorted into categories of Photos, Videos, Music, and everything else. You can specify what subdirectories each category is written to, whether or not to use dated subdirectories (recommended, as files with the same name would otherwise overwrite what is there), and also which file extensions are to be associated with each category... Oh, and you can specify specific files to be ignored.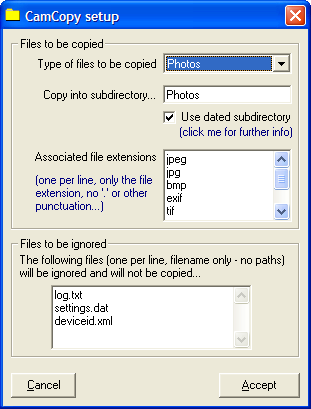 When you are happy, let it do it's job.

When it has done it's job, call up Explorer and look in the folder: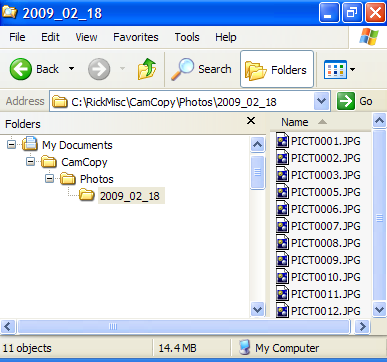 This is the first public release. Please report all problems to me.
Note - this software does not delete the original files. It is easier to delete files you know are copied than to recover automatically deleted files that were not copied correctly.
---
Return to software index
---
Copyright © 2009 Richard Murray