Introduction
What is Alarm?
Welcome to Alarm

Have you ever wished that you could have a little something that sits, quietly, in the system tray and... at the correct time, will remind you of important things?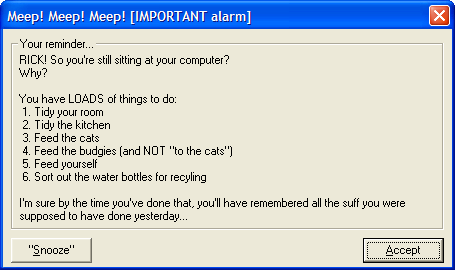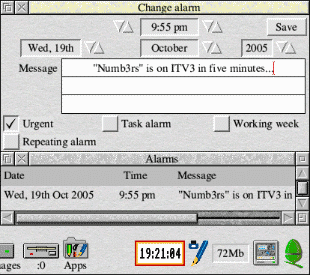 This is what Alarm is all about!
It seemed bizarre to me that Microsoft has given Windows many built-in resources. Video players, sound samplers, power management, CD writing (in XP)... but there is no built in alarm clock!
Why?
Having used RISC OS since its earliest days, I have made a lot of use of a simple little program called !Alarm (as shown on the right), which - as its name implies - is an alarm clock!
And now I have brought !Alarm to Windows!

But this isn't simply a clone of !Alarm, it is a whole new creation that is intended to do the same sort of thing, only in it's own way!
Some things you can do with Alarm
Add and edit alarms: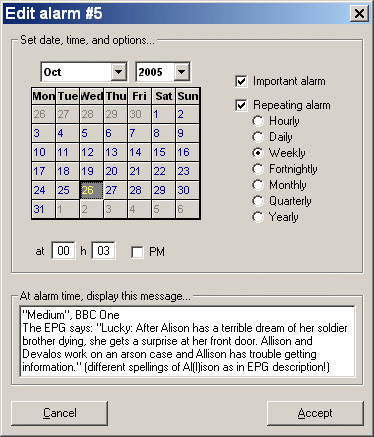 Manage alarms with an easy-to-use list (organised by date):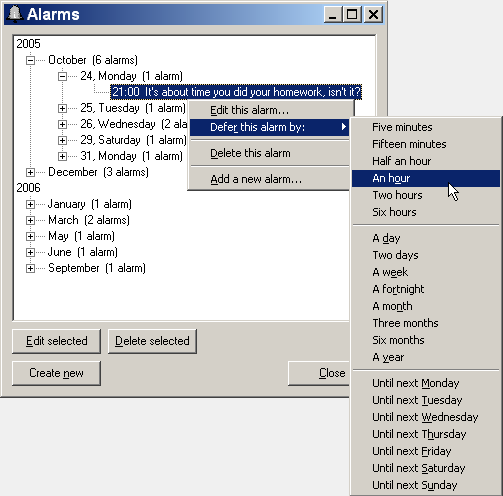 The icon is a message...
The system tray icon instantly tells you Alarm's status:
| | |
| --- | --- |
| | This 'grey' icon means that Alarm is running, but no alarms have been created yet. |
| | This 'blue blorder' icon is the normal one that you will see. It means that Alarm is waiting, either for you to use it or for an alarm to trigger. |
| | This 'greyed-out' icon means that Alarm is 'suspended'. This occurs when you are adding, editing, or deleting alarms. In this situation, no alarms will be triggered - they will be reported to you when you have finished the add/edit/delete operation. |
| | This 'magenta border' icon means that triggered alarms are pending. You will be shown the relevant alarm messages presently. |
| | This 'red border' icon means that there is an alarm message on-screen. You should read it, then dismiss it (usually by clicking the 'OK' button). |
A tick list
If you are the sort of person that wants to have a tick list...
ü Easy to use!


ü Supports up to 999 alarms (more can be added, up to 32,000! - email me)


ü Multi-user/profile systems: each user/profile has its own alarms


ü Intelligent: can cope with multiple alarms at the same time


ü Intelligent: can cope with alarms 'missed' while waiting for an alarm to be dismissed


ü Intelligent: can cope with alarms 'missed' due to Suspend/Hibernate mode


ü Intelligent: because it doesn't try to guess what you really meant to do
(you'll know what I mean if you've used 'certain' software that fails woefully by trying too
hard to be smarter than you - if it was that smart, it'd write the reports for you ... oh, wait,
it thinks it can...)


ü Alarms can be deferred by specific amounts of time (i.e. 'a day')...
...or until a given day (i.e. 'next Wednesday')


ü Alarms can auto-repeat, with seven different repeat choices (from 'tomorrow' to 'next year')


ü Are you busy?
The alarm notification has a 'snooze' button so you can put it off for five minutes (more)...


ü Complete help provided
Alarm can remind you...
ü ...to take your medications!


ü ...people's birthdays!


ü ...things you wanted to see on TV!


ü ...phone calls you said you'd make later!


ü ...when you're no longer 'grounded'!


ü ...when the oven meal will be ready!


ü ...when you'll tidy your room (sorry, there's no "never" date)!


ü ...and more!
Other things Alarm can do...
ü ...quick and easy measurement conversions - what is 28°C in F? What is 80km in miles?


ü ...quick and easy numerical conversions - what is 123 in binary? Or hex?


ü ...keep an eye on your computer's battery (if a laptop) over the last 240 minutes.


ü ...capture, and enforce, a gamma correction profile (this is perhaps more specialist).
And, perhaps, the best bit:
ü It is totally free (as in 'gratuit') - just download it and use it!
And now?
Now you've read this far, it is time to actually do something interactive!
Click here to download it! :-)
---
---
Copyright © 2007 Richard Murray