OPMLV
Now it's easy to read OvationPro's mailing list archive!
This is a place-holder. A better-looking website will be along presently (well, some day)...
For now:
What's new since the last release?

In terms of functionality, nothing.

A new release is being offered as the installation package is put together with Clickteam's installer creator, so it is a simple download-and-double-click process instead of all of that nonsense that you had to do previously.
In addition, none of the system/runtime DLLs are included which really cuts down on the file size. 99.9% of you will have these DLLs anyway - and if you don't, simply download and install the various dependencies pack (linked below the download link).
Okay then...go clicky...
Here's a screen-shot...
Scaled down, this is how the October 2005 archive appears, when loaded. As you can see, the first message is automatically displayed.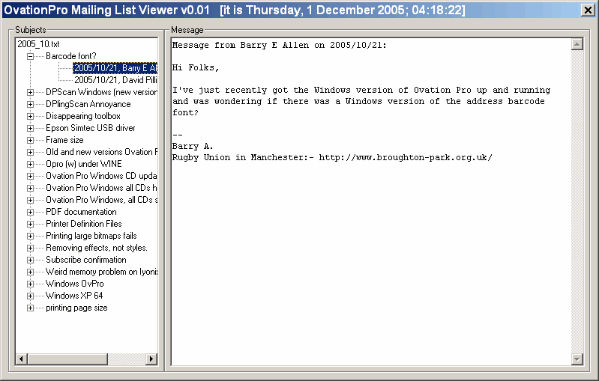 ---
If you use OvationPro, you might be interested in:
If you use Windows, you might be interested in some of my other Windows software...
---
Return to Windows software index
---
Copyright © 2007 Richard Murray