What is WebScan?
Picture the scene: You are putting together a web site. In the beginning there are not that many files so you can keep track of what is new and what is old (and if you lose track, it isn't a big deal to just upload the lot).

A little bit later down the line, your website is much larger and contains numerous sub-directories; which could possibly contain hundreds of files. It might look a little something like this: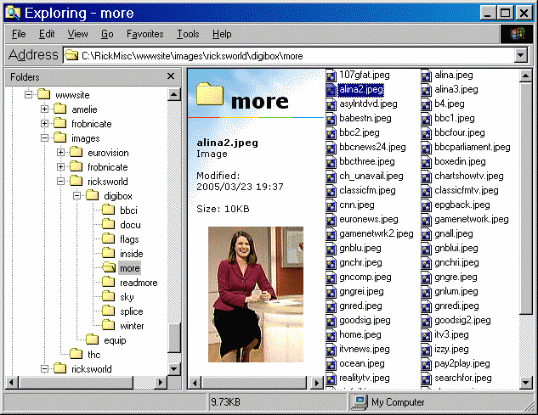 The above picture shows the screenshots used to accompany the information on the Sky Digibox, and if you look you'll see that this is only a subdirectory - there are many pictures, and loads of other documents.
What you see in the above picture is a part of my website. The totality of it (Spring 2008) works out to be 3,604 files, and growing... and that's not including the older stuff over on my RiscPC! There is no realistic way to keep track of this using written notes, and simply uploading the lot each time is pretty much out of the question as it comes to 167,558,064 bytes. Yes, nearly 160 megabytes. And, as I said, this is only the part of my site that is held on this computer.
What I need, and what you need if you find yourself in a similar situation, is something to maintain a list of all of those files, and will let you know quickly and simply which ones have changed.
Something that is smart enough to know that a file can change yet it's name and size can be the same (fixing a little typo, for instance).
Something that will keep track of things deleted as well as things added and changed.
Something like WebScan!
WebScan offers you:
Easy to set up


Simple fast one-click scanning (can be set to perform scan automatically as soon as it is run).


Feedback - WebScan will always inform you of what is going on.


"Copy out" facility - copies changed files (reproducing the directory layout) into a temporary directory so you can just archive the lot - and know you're only archiving what has actually changed.


Optimiser - to help make your HTML files smaller.


Recovery - the ability to perform a scan matching all files modified after a specified date.


Concise - easy to read results
And, of course:

Compared to web site design tools, WebScan will not:
Attempt to process your HTML and do annoying things like converting your choice of tags to something that it reckons you should be using (like changing all your <i> and </i> tags to <em> and </em>) and giving absolutely everything a 'style'... just because it thinks that's how web pages should look.

It can optimise your HTML for you, if you want. You control how the optimiser works.


Install loads of rubbish within your website directory; .htaccess files, xml and all manner of stuff that makes some sort of sense to the HTML editor, but not to you.


Confuse you with a complicated setup ritual which involves steps such as "logging into your website".


Sulk if you edit different HTML documents with different editing programs.


Complain if you prefer to use ".jpeg" file extensions instead of ".JPG".
Okay, so WebScan isn't a web site design tool. It was written on the assumption that, by now, you already have a preferred way to create web pages (I use MetaPad!).
On the other hand, WebScan will do something that a depressing number of web site design tools won't do - it will tell you what has actually changed.

No complications, just assistance.