mailto: blog -at- heyrick -dot- eu
New contract
It seems incredible to think that two years have passed since I last sorted out a mobile phone contract. My previous phone was an Xperia U which started off as a perfectly acceptable phone that rapidly showed severe limitations due to a mere 4GiB Flash onboard and no µSD slot. In the final months, perhaps following a tonne of behind the scenes updates from Google Play (I can't think why else I'm need so many differently sized updates to Google Play Services in such a short length of time), the phone began to get really slow. Tap on the icon to call Mom? The dialler would be loaded (it would appear as a task if I switched to recent tasks list), but it could take from a second to a minute before it would actually place the call. Starting Amazon? Oh my god, that took so long I'd actually gone into the apps list and been about to force-close it when it popped open.

My chosen phone was a Motorola G (4G). Cheap and cheerful. I wanted to plan out everything in advance because I was dreading going to the Orange shop after what happened last time. We waited a while. A while being defined as "are you sure the parking ticket lasts this long?". I went to speak to a man and - first problem. The Motorola G was only available ordering on the internet. I could have done all this stuff on the internet, if Orange didn't make it kind of complicated. Oh. Crap.
So the man asked me what I was looking for in a phone. I said "inexpensive", "good display, preferably HD", and "not running a prehistoric version of Android". He asked me what I was most likely to use it for. I took out my Xperia and showed him a bit of Akatsuki no Yona. I said when I'm at home I turn mobile off completely and just use the phone like a small tablet on WiFi.
He thought for a moment, then showed me an Samsung s5 Mini. I laughed and said that sort of thing was so far out of my budget. He said, actually, it is cheaper than the G. Say what?
Well, actually, it was. If I signed up with a 24 month contract, and put down €100, I'd have a little piece of paper that would allow me to have fifty euros reimbursed (actually, deducted from the phone bill). That works out €9.99 less then the Moto G.
Yeah, I thought to myself, it's the baby version of the s5 so it will be missing loads of features. But I bought it anyway because the display did actually look rather nice. Since I would be watching animé and such on it, that was important.

I also changed my contract from Open Style (which no longer exists) to Open Play. Here's a side by side.
Contract
type
Open Style
(current)
Open Play
(new)
Cost
I pay €57,90 a month.
Will cost €70 (-€5 offered for 2 year contract)
Which means...
€58
€65
Internet
ADSL at 2mbit (technical limitations)
Livebox
Standard Livebox 2
Newer Livebox Play (if I want to upgrade)
Television
Many channels via satellite (I don't make use of this)
Many channels via satellite (plus a recorder/timeshifter; don't need...)
VoIP phone
Unlimited to landlines in France and 100-odd other countries.
VoIP to mobiles
1h per month to a French mobile
Unlimited to mobiles in France (+DOM), US, Canada.
Mobile calling
2h/month calling landlines, plus unlimited to 3 numbers of choice (any operator).
Calls and texts unlimited in France (+DOM).
Mobile data
500MiB/month (option of buying an extra 200MiB; data ceases if allocation exceeded)
3GiB/month (with very restricted bandwidth if allocation exceeded)
Mobile roaming
At cost.
3h/year of calls and unlimited SMS in Europe to Europe; plus 3GiB/year data within Europe.
Tethering/modem
Option, costs from ~€8/month
Included
So, for only seven euros more, I get six times as much data, the ability to use my phone as a personal hotspot for the iPad, and if I should ever go on holiday to Spain, the UK, etc - a small but useful allocation of calls and data. So if I'm stuck for a night in that peculiar fifties-style hotel at a crossroads in Manzanares, Spain, I can still browse my favourite web sites... well, assuming there's a mobile tower nearby.

The transition? Clicky-clicky-done. It'll take effect from my next billing period which is, I think, the 22nd.
Samsung s5 Mini (part 1)
The phone that I had chosen, the Motorola G 4G, was powered by a Qualcomm MSM8226 Snapdragon 400 - that is to say it contains a quad-core Cortex-A7 clocking 1.2GHz to run a fairly plain Android 4.4.2. The phone is rounded out with 8GiB Flash and 1GiB RAM, a 5 megapixel camera (can record 720P HD), a 4.5" LCD (720×1280), and a welded in 2070mAh Li-Ion battery.
To perform a direct comparison with the marginally cheaper (to me) phone - the processor is a nippier Exynos 3 Quad 3470, that's four Cortex-A7 cores clocking 1.4GHz, running Samsung's tweaks to Android 4.4.2. Baked in are 16GiB Flash, 1.5GiB RAM, an 8 megapixel camera (or 6mpix in 16:9 mode; both front and back cameras can effortlessly manage 1080P HD video), the screen is also 4.5" 720×1280, but being Super AMOLED (black is black, and no messing). The battery is slightly more capable (2100mAh) and it can be changed.

So at a brief glance, the phone delivers more.

And, believe me, we're just scratching the surface.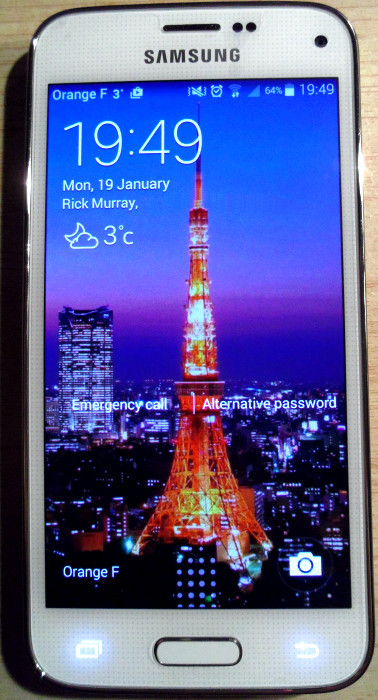 My address, following my name, has been edited out of the picture. The lock screen picture was downloaded from Travaday, following a quick Google search.

Here's the first difference. I never used to PIN lock my phone as it was either such a hassle to unlock it for every time it was wanted, or it would do something dumb like "unlock at power up and never ask again". When security is too much hassle to bother, that's not a good thing. Not so with the s5 mini. The physical home button doubles as a fingerprint reader. It isn't foolproof (somebody beat it with a latex and zinc (I think?) model of a real fingerprint) but for the sorts of things that my phone will want to be protected from, the fingerprint scanner is a simple and reasonably secure way to unlock the phone. Better yet, the scanner does not require the finger to be read exactly straight. So my second registered fingerprint is my thumb, so I can just flick my thumb across the sensor. It's at an angle so might require a second try, but it is a quick thing to do. There is also the option to unlock the phone by entering a password. This is useful for times when the phone can respond to input, but you aren't able to provide a fingerprint. Such as when wearing latex gloves, or normal gloves that have special tips to permit touchscreens to be used. In these cases, I can just tap out the password and I'm in. So it works either way around.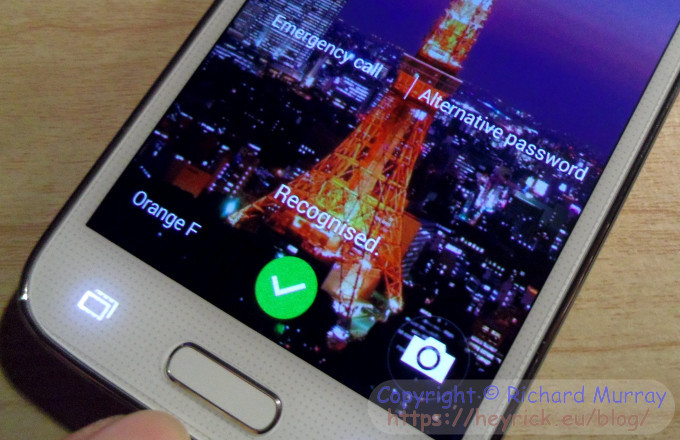 The weather report and the ability to enter owner details are nice touches.

The phone is quite easy to open up. Slide a fingernail under a small tab, the back panel simply unclips. Here lies another surprise.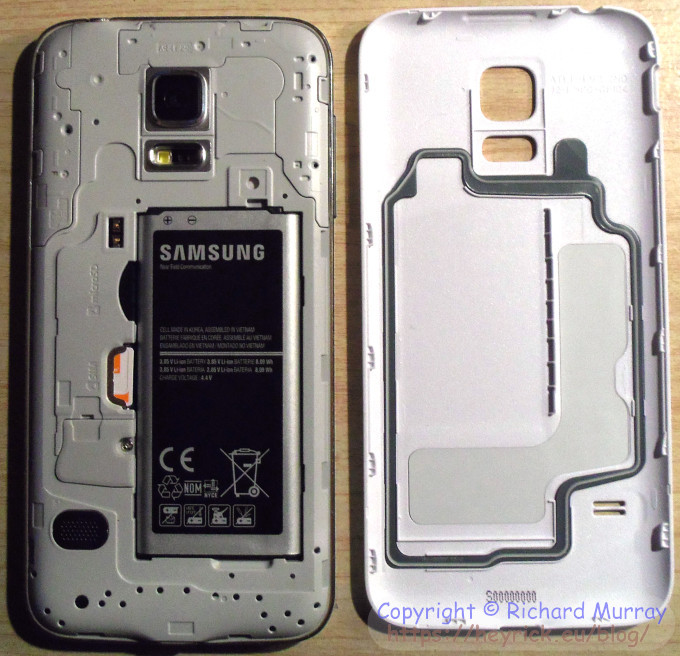 Do you see the grey rubber outline on the back panel? This phone is apparently waterproof to a depth of a metre and for half an hour (IP67 certified). It also features waterproof audio and USB jacks so you don't have fiddly rubber covers to deal with, though on the flip side you'll need to wait for the socket to dry before trying to charge the phone. Given the somewhat plasticky appearance of this phone, and the fact that the cover just clips together, I don't plan to test the water endurance, but it is nice to know that I can use it in the rain without freaking out - though whether or not the touchscreen will be any good when wet is a whole different proposition.
The second surprise, a personal one, was lurking underneath the battery. It said "Samsung, Yateley". What? I hopped right on to Google Maps and discovered a big technopark in what was uninspiringly called the "Blackbushe Business Park". So my phone, from a Korean manufacturer, made in Vietnam, sold in France, has "come" from the town where I spent most of my childhood. Damn. Small. World.

I had wondered for a while why this never ending spat between Apple and Samsung seemed to focus so strongly on Samsung. Okay, there are similarities between the way Android does things compared to Apple (or vice versa) just as there are similarities between Windows and Ubuntu. Or, for what it is worth, any of them and RISC OS decades previously. Certain user interface elements are just "a given" that they will behave in a certain way. Once you have used a UI, you don't really need to be told what a button looks like or what a caret is for; just like when you get into a car you won't find the accelerator where the handbrake should be. But, why concentrate so much on Samsung? You hear of Apple screaming about how this and that is this and that (complicated legal dribble) but it's always Apple vs Samsung.

Now I understand.

I have always thought of Android as being a capable enough, if somewhat bloated, operating system for modern mobile phones which provides enough frameworks to allow you to get "apps" to do all the things you want. This is like the old J2ME system on acid. However... The web browser was functional, if unexciting. The email was (generally) functional, if unexciting to the point of being a bit awkward. SMS was functional but nothing to get excited over. It was better than the old feature-phone method, but it was a bit blah given that it's a near-gigahertz bit of kit running it. Phone? Contacts? About as much as is necessary, and not a lot more. Bluetooth? Headset/handsfree, yes. Object push? Perhaps. Or maybe one way. Or depending upon the phase of the moon. Keyboard? Not a hope in hell. The biggest win was the camera, which had plenty of options that could be tweaked (unlike iOS that dumbs it down to the level of "press this button to take a photo"). You knew that the system could be capable of good things, if Google didn't keep screwing it up with really lame default software (again, the "they'll go get an app" mentality), encouraging embedded adverts all over the place, and one of the most execrable permissions systems ever designed - that years along the line and we're still stuck with "read phone status and identity" so an app that wants to know if you're in a call (to shut itself down when you answer a call, for instance) gets unfettered access to all manner of personal identifiers including a phone ID, your phone number, IMEI and SIM numbers... Great stuff. Of course, the world blames this on a hiccup with Android 1.something, but Google is in no rush to correct this (split the API, make the new version of the old call return dummy data for compatibility) because it just so happens that phone unique identifiers are useful for in-app advertising. To elaborate, the READ_PHONE_STATE permission provides access to the ACTION_PHONE_STATE_CHANGED which is what most apps probably want. It also allows: getDeviceId() [the IMEI], getLine1Number(), getSimSerialNumber(), getSubscriberId(), getVoiceMailNumber()... [reference]
That's one example. There are more.
So, that's it. A capable and less expensive "unified" operating system ecosystem to bring together disparate manufacturers and disparate ways of doing things in to one thing that should be broadly compatible across the board.

Then I started up my Samsung.

The first thing was that it there was no Facebook app in sight. Samsung had added a few games and things, and Orange preloaded their own stuff, but by and large it wasn't cluttered with things I'd never use nor want. Some of the baked-in apps cannot be uninstalled, but via the App manager they can be disabled. I disabled "BlurbCheckout" and "Flipboard".
Out of the box, there is a calculator and a note jotter - simple things but surprising how often these things are overlooked. There is a PDF/doc viewer (and the full version can be downloaded from Samsung's own app store, if I feel like deviating from Google Docs). There is a voice recorder, a widget called "Torch" that can turn the flash on and off from the home screen, Google's news app, both the stock browser (that Google has given up on) plus Chrome. The built in video player is fairly basic looking but it has no problem with an animé in an MKV wrapper with on-screen subtitles. This puts it head and shoulders above everything else I have tried.

So, let's take a look around. First though, please note that the screenshots have been resized to fit the 680 width that applies to all images on my b.log. The real size is 1280×720. And, if you're looking at the reduced quality mobile version... god help you...

Here is the initial home screen showing the weather forecast - the pictures change depending upon the time of day. The standard background is a bright affair that looks like a screenshot from Starfighter 3000, so I used Google to find some pleasant cherry blossom, and the first match - Sakura tunnel by Masai Okeda was absolutely perfect.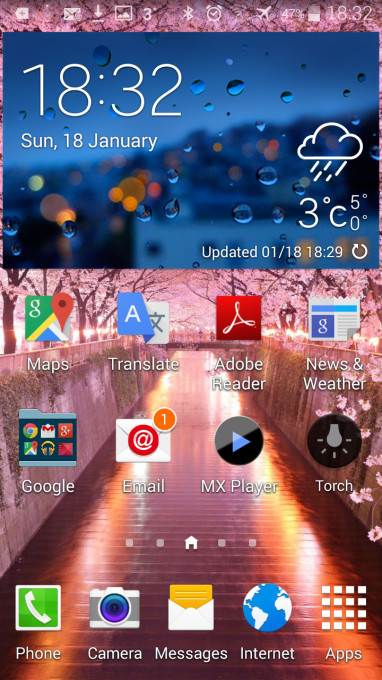 Of note is the Google entry, lower left, that acts as a pop-up tab. All of the Google apps can be stored together under one icon for quick reference, and these folders can be easily created for organising things thematically.

Calling is simple and nice looking. Tap on a contact, and a clear and obvious screen will appear, along with a big photo of the person, if you have one. The photo here is mom out refilling the bird feeders in the snow. Hopefully our only snowy day - fingers crossed!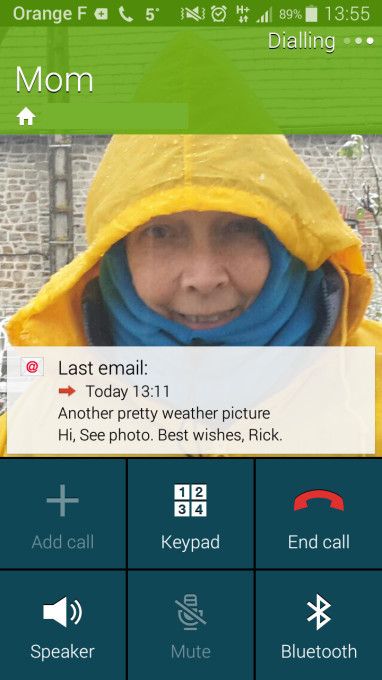 You can switch away from that to do other things, and a little pop up icon will appear overlaid onto the screen so you can remember you are in a call, see how long it has gone on for, and switch to the dialler if necessary.

I have installed the old (before they messed with it) version of WinAMP on the phone, but I'm not sure how much I will use it for the built in player is rather nice. It offers an extremely customisable EQ, a range of presets, something called "AdaptSound" which will test your ears to tweak the music to sound its best for you.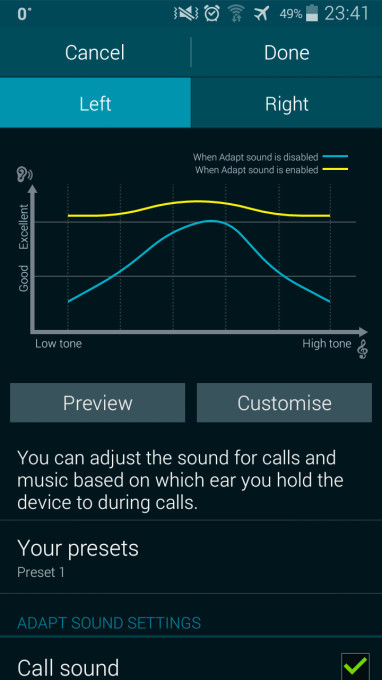 If you are playing a song in the player, turn the phone horizontal and it will suggest ten tracks that have a similar kind of tempo to the current song, although I'm not entirely sure how it matched Tubthumping to Kalafina's Alleluia. Tap on the embedded picture and a selection of bubbles coloured from the part you tapped will rise up. Just, you know, because...
The music player also replaces the lock screen with easy to access controls, plus the embedded image, if there is one.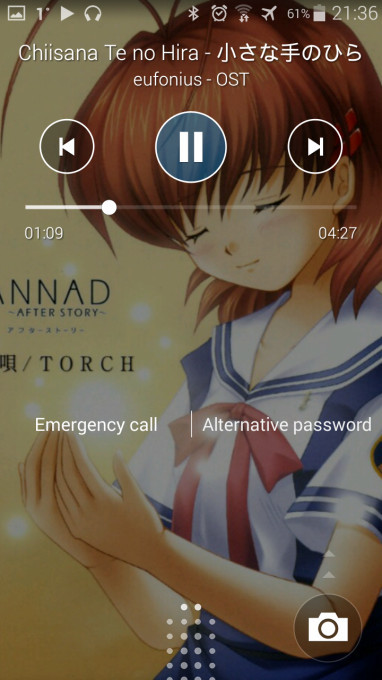 The camera seems fairly basic - the auto mode does most of what you might need, but there doesn't seem to be too many options for setting different kinds of scenes. It is weird not to see portrait, landscape, sunset, etc. Here are the "Modes". Panorama is nice to play with, but you'll be using Auto due to a lack of anything much else.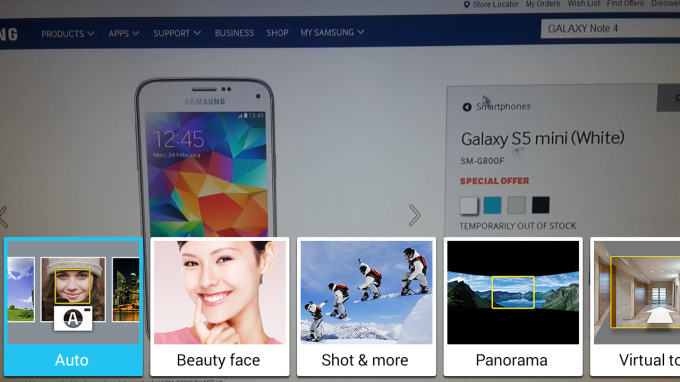 The background is my PC on Samsung's site.

You might have more luck here, the camera settings: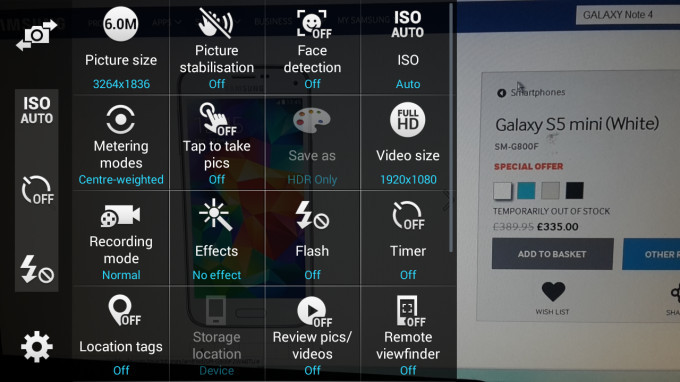 The maximum resolution of the camera is 8mpx (3264×2448) but since it is at 4:3 ratio, I have chosen a 6mpx 16:9 size. Alternatives are 6mpx (1:1), 3.1mpix (4:3), 2.4mpx (16:9), and 1280x720 (16:9). We've left the era of VGA, QVGA, CCIF, and such.
The front camera offers 2.1mpx (1920x1080, 16:9), 1.6mpx (4:3), 1.1mpx (1:1), and the expected VGA 640×480 (4:3).
Both camera offer VGA (640×480), HD (1280×720), and FullHD (1920×1080) video recording.
The pictures are not going to set the world on fire. The colour is nice, but camera movement can make the pictures slightly blurry. The autofocus is quick and generally the pictures are not bad for a camera built into a mobile phone.
Here are some scaled down examples: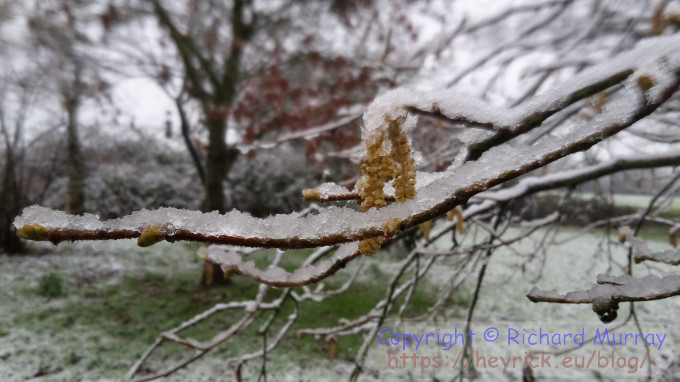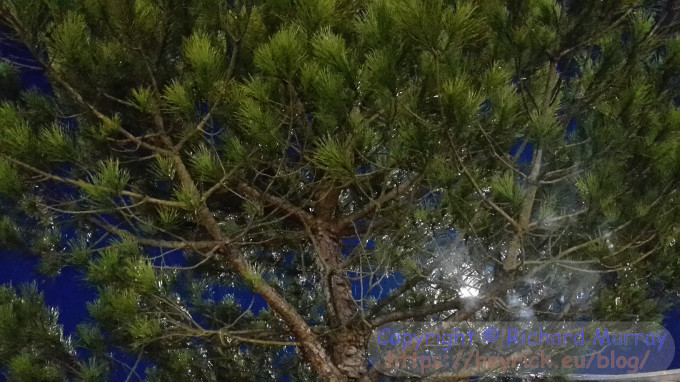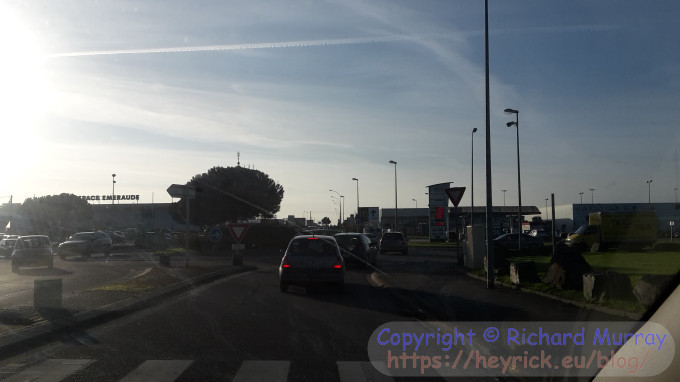 Here is a part of the third example at full size. You can see the JPEG compression can be a bit aggressive (the entire original photo is 1.49MiB), but the quality taken from a moving car is good enough that you can read the petrol prices.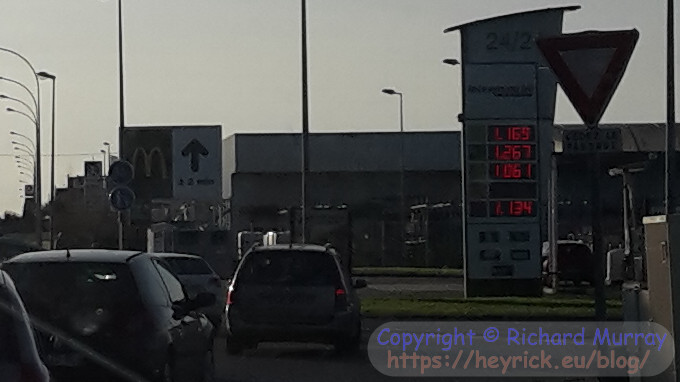 Then there's the editor. If you are lucky, you might be able to crop the photo on any random phone. Not Samsung. Samsung delivers something useful as a standard feature.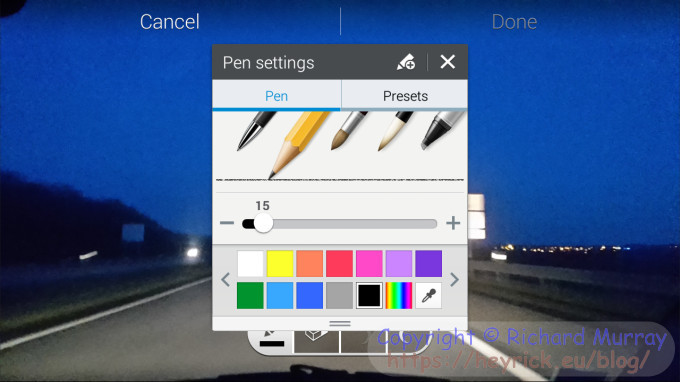 Which means it is a doddle to fix up images, and to annotate them, right there on the phone.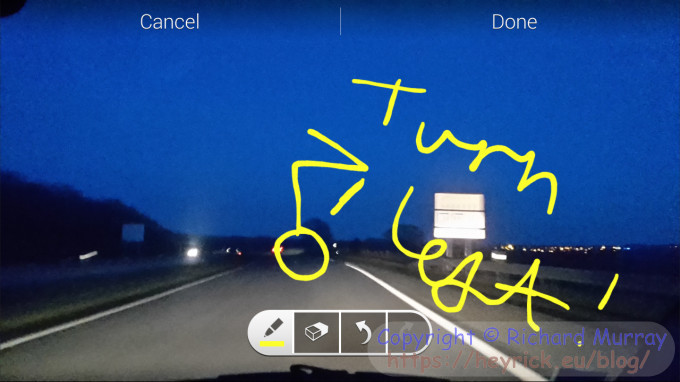 The drawing is also blended into the image so the end result looks nice, even if it is hastily scrawled.

It doesn't end there. Oh no. The feature list just goes on. I'm going to have to call it a day because I'm beyond bedtime, and I'll talk about it some more in a further post.
Your comments:
Please note that while I check this page every so often, I am not able to control what users write; therefore I disclaim all liability for unpleasant and/or infringing and/or defamatory material. Undesired content will be removed as soon as it is noticed. By leaving a comment, you agree not to post material that is illegal or in bad taste, and you should be aware that the time and your IP address are both recorded, should it be necessary to find out who you are. Oh, and don't bother trying to inline HTML. I'm not that stupid! ☺ ADDING COMMENTS DOES NOT WORK IF READING TRANSLATED VERSIONS.

You can now follow comment additions with the comment RSS feed. This is distinct from the b.log RSS feed, so you can subscribe to one or both as you wish.
Mick, 21st January 2015, 01:33

I want one. It ticks all the boxes. Hope you report back on the battery life as my S2 is like a landline. Always plugged in! Oh, is one the front two dots an LED to let you know if you have received a message?

Rick, 13th March 2015, 20:25

Hi Mick,
After a month and a bit of using the phone, it seems to be around 50% after a day of my average use (so it seems slightly better than my Xperia U). Obviously screen brightness, GPS, and mobile hotspot will suck the battery down, though thankfully Samsung have not opted for a welded-in battery. As such, if you will be out for a long time, want to make a lot of use of the phone, and have concerns over the battery life...you can always buy a spare to put in? It's nice to have that option.
I guess trains don't come with a lighter socket on the dashboard, so you won't be able to hook it up to charge while you're en route. Oh well... ;-)




(Felicity? Marte? Find out!)



PS: Don't try to be clever.
It's a simple substring match.


Last read at 14:11 on 2023/12/04.





© 2015 Rick Murray

This web page is licenced for your personal, private, non-commercial use only. No automated processing by advertising systems is permitted.
RIPA notice: No consent is given for interception of page transmission.

Have you noticed the watermarks on pictures?