mailto: blog -at- heyrick -dot- eu
The Nokia 6230i
The phone is a Nokia 6230i. The technical specifications are:
Communications

EGSM 850/900, GSM 1800, GSM 1900 so it should work in Europe, Asia Pacific, Africa, and the Americas.
Weighs 99g (including battery) so won't be a burden.
Supports standard SMS (including pasting together multiple messages into one), MMS (spec. OMA 1.2).
Predictive text messaging, on this model available in several languages.
Claims to support email (SMTP/POP3/IMAP4) and instant messaging, not tried.
Built-in browser supports WML and XHTML so a lot of web pages should work (not tried).
Ringtones are user-selectable and can be polyphonic tones, MIDI tracks, MP3 songs, or AAC music.

Communications (nerdy)

EDGE class 10 (4+1, 3+2) - speed up to ~236kbps
GPRS class 10 (4+1, 3+2) - speed same?
HSCSD - speed up to 43kbps
TCP/IP stack
Active time is 3h to 5h
In-use time as media device is 5h+ (not accurately measured)
Standby time claims 150h to 300h

Multimedia

208×208 pixel 64kcol (16 bit) TFT display (very bright)
32Mb internal memory, plus accepts MMC cards up to 512Mb
1.3mpix (1280×1024) digital camera (fixed focus, auto-white-balance)
Music player supports MP3, MP4 (as in .M4A), and AAC.
FM stereo radio
Visual Radio (apparently - doesn't seem to do anything? Is this another word for RDS or is it a service that isn't available here?)
Video recording - QCIF 3GPP (H.263 video, AMR audio), can record up to an hour (depends on memory).
Video player, claims to play 3GPP, H.263, MPEG-4, and AMR.
Digital rights: OMA DRM v1.0

Software

3D Golf, Street Racer, Backgammon.
Calendar/notepad
Translator
World Clock
Operating system: Nokia OS - Series 40 Developer Platform 2.0
Application system: generically "J2ME", or: JSR 75 FileConnection / PIM, CLDC 1.1, Nokia UI, JSR 82 Bluetooth API (No OBEX), JSR 184 Mobile 3D Graphics, MIDP 2.0, JSR 185 JTWI, JSR 135 Mobile Media, JSR 120 Wireless Messaging (heap is 2Mb, max. .jar size is 300Kb)

Connectivity

USB cable
Infrared (IrDA)
Bluetooth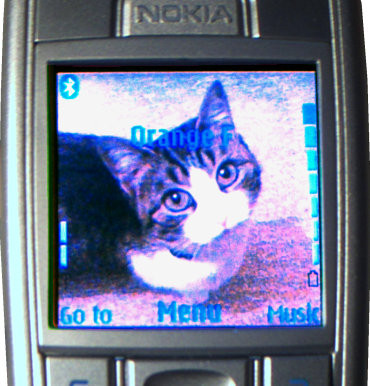 To put this into perspective:

Size and shape
The size, shape, and weight are pleasing. I don't like clunky phones and I don't like dinky ones. I'm not overly keen on flippy ones either. This, had it not been given to me and had it been in my price range, probably would have been a phone I'd pick.
I have, as you might previously have read, been having 'issues' getting the fancy stuff to work. Orange has been back in touch with me to say that I will probably require a new SIM and if I visit an Orange shop, they ought to be able to do the transfer then and there. So I can only comment on SMS which works as expected (I like the choice of smileys!) and receiving MMS. I've not sent any MMS because the cost internationally is €1,10 with all of the major operators. A friend sent me some MMS pictures, he thinks it costs him "two texts" which is much more reasonable!

WAP/GPRS
I will get back to you when I've seen WAP/GPRS/internet in action. I suspect Orange locks you in to OrangeWorld - certainly I never got out of it with my old WAP-able phone. Hopefully Virgin will be less restrictive, so I can try stuff like BBC's news, Google, and maybe look to providing some mobile content on my own site?

File support
It's a shame, given that the phone has an XHTML browser built in and I have installed OperaMini, that there is no way to read .htm documents stored on the phone. The 'notepad' is pretty crap, you can write up to 3000 characters. Okay, let's face it that you probably couldn't stand to do much more with a telephone keypad and predictive word entry; but how about if you're a busy person - you could drop a web document or text file on the phone and read it while on the train? Or during a discussion a collegue could Bluetooth you a diagram or two to look at. Maybe slides from a presentation that you can refer back to later on?

Display
Despite the apparent limitations (screen size, colour depth), the display is quite pleasing and its brightness means it is suitable for use in all light conditions. I like the 'fade in/fade out' effect as the backlight goes on and off.

User interface
The user interface, it could be argued, has its limitations, but this is one of the older Nokia phones, being based upon the S40 platform running NokiaOS instead of the S60 (or later) platforms running Symbian. What this gobbledegook means is that it is a fairly early example of the 'modern' style of mobile phone. It can hold contacts, it can hold your agenda (and PC-sync it), it can deal with the mobile functions - calls, SMS, MMS, etc. It is all very much to the point without excess complications. And it is colourful without being disgusting. Limited by its age, perhaps, but otherwise quite well thought out.
One of my few suggestions would be an option to 'hide' main menu items. I don't want to see the "PTT" functions as I am never going to require that; so why show it?
Otherwise, the ability to set up a theme for your chosen look-and-feel, plus customisable text colour, plus your own custom 'backdrop' picture... all good.

What I miss from my old Sagem phone is there is a little flashing LED. It flashes green when it is connected to the network, it flashes red when it wants my attention (battery low, SMS received, call missed, etc). And if both cases it will flash alternately red and green. I can tell the state of the phone at a glance from across my room. With this phone, I have to pick it up and look at it. Thankfully the display can be read when the backlight is off. Mom's mobile (a later Sagam) cannot be read with the backlight off, even when shining a torch at it! Disgusting!

I like the ability to set up an automatic key-lock. Being on the receiving end of a call placed 'by accident' (a key was held down as the phone was sat on, this invoked the speed dial) and being not blessed with a ready source of cash to feed the phone with endless communication credit, I would rather the phone lock itself when I've left it awhile. Oh, and it is smart too - it will lock out the main display after so long, but it I am in the music player it will not lock it so I can access the playing functions without first unlocking the phone...

Digital camera
The digital camera is not perfect, but it is more than acceptable for a little thing stuck on the back of a phone. All of the pictures on the 17th October were taken using the phone. They have been post-processed, in some cases quite a bit.
A picture with only the road signs edited is (click the picture to download the full-sized 'original'):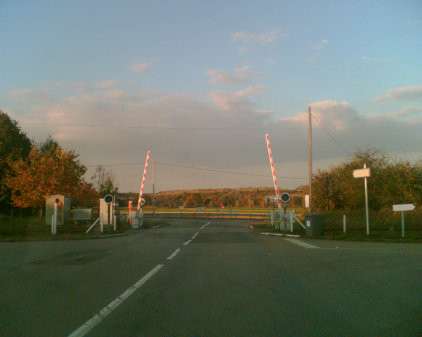 Music player
The music player, while really basic, is functional. Unfortunately the "random play/repeat all" is not smart enough to remember what it has already played, so in theory you could hear the same song twice in a row. It hasn't happened, yet, but it does seem to favour Hayley Westenra (I can't say I'd disagree!).
One of the really nifty things is that you can exit the music player with a song still playing and go do something else. Run an application, check your schedule, send an SMS... all with your favourite music playing.
If I had to give one criticism of Nokia, I would ask why are the earphones so horrible? Practically no bass response! Because it is a special custom connection, I can't pick my own earphones, but when the day comes that the wire breaks (as, alas, happens with these things), I will look forward to soldering in better earphones!
The button on the hands-free (earphones) kit is usually intended as "answer/disconnect call". When you are in the music player, it is "next track". There are three 'virtual buttons' in the player that you can move the highlight to. Obviously - previous, play/stop, next (there does not appear to be a forward/rewind function?) - and it would have been nice if the hands-free button could have "perform highlighted action" so you could choose if you would rather "next track" or "play/stop". Both have advantages and disadvantages.
It seems odd to me that both in the player and the track list the artist is highlighted in big bold letters while the track title is smaller. As a suggestion, and maybe later models do this, the track name should be scrolled (perhaps with other ID3 tag info?) and there should be a change between time played and time remaining... or at least the track list should show the track length?
The music player is slow to start up, but once it has started it knows what songs you have and has read the ID3 tags. From then onwards, it is possible to go to any track at any time simply by entering its number - useful!

Video
The video quality is appalling. I know it is probably optimised for MMS, but it'd be useful if there was an option to perform a less intense amount of compression. If you can play 3GP files on your computer, or if you have a video-capable mobile to download to, you can see a short clip I recorded while at work. You'll may pleased to know I have a different locker now! Oh, and that's 23h25 on the clock, not 11h25!


This, I should point out, was the high quality setting. I don't want to think what the alternative is, but it certainly goes some way to explaining the crappy mobile-recorded video on TV and places like YouTube.

On the part of creating video content for transfer to the phone, it is deeply ironic that Nokia's own Video Manager fails. It makes a 208×208 MP4 file (video codec h264, yuv420p; audio codec aac 44100Hz stereo) which the phone then says it cannot play!
I have created myself 3GP files (video codec h263, yuv420p, 176×144 QCIF) which work as far as the picture goes. I have also tried both MP3 and AAC audio codecs (in stereo) at 44100Hz and 22050Hz, bitrates 32/64/72/96/128kbit, and it doesn't want to know. I get picture and no sound.
The only time I can get sound is using the amr_nb codec which seems to only work in mono at 8000Hz with a bitrate something like 12.2kbit/sec - dreadful, sounds like a distorted tannoy or a tranny down a well. If you can help - please contact me - there has to be something better than amr!

FM radio
The FM radio is functional. The reception here is a bit iffy and this isn't helped by the requirement of the phone using the hands-free as the antenna, however in a more populated area (hence better coverage) it would work well; it's a shame you cannot record from the radio.
I am listening to Alouette playing "Shining Happy People" as I write this. I tried running OperaMini. This used processing, the JVM, a failed GPRS attempt, and the display. Amazingly there wasn't a hint of static or other unwanted disturbance to the FM reception. Well done Nokia!

I have been unable to get any joy from trying the "visual radio", so I cannot say what exactly this is. I am guessing some sort of RDS? My portable radio (with better antenna - the telescopic hooked to a 'random wire' (a long length of solder!)) gets RDS on most FM channels.
It is quite nifty that I can hold the Vol-Down button down, and when the phone beeps I can say "alouette" and the FM radio turns on, turing to my first channel which is, indeed, Alouette. I have also defined "radio off" as the voice code to turn off the radio.

Applications
Of the built-in applications, I can't say I have made much use of any of them as yet. I might have used the Calendar, but I have my PocketBook II for that. The notepad is too limited to be any sort of wordprocessor, this is partly restricted by the method of data entry. It would be much simpler and more productive to record your thoughts and then play them back and write them with a 'real' computer.

Street Racer is quite basic, it would be cooler to have an OutRun clone, something that would be more involving. I don't know the rules to Backgammon and the 3D Golf game rates me as "Awful!".
The Translator might have been quite useful if it had a larger dictionary, or you could add your own words. I tried ten words - test, simple, car, woman, examine, mistake, rescue, ambulance, stolen, exit - those in italics were found, 50% of my random list. If you think the words are bizarre, I'm trying to imagine things you might want to say in another country. I quite like that, in German, an ambulance is a "krankenwagon"!
The world clock is a nice little novelty, but it is far too lacking in time zones, for example the entire continent of Australia is represented by only the Canberra time zone, with the western part not getting a mention. Isn't there something weird with NSW and time zones, too?
The Convertor is fairly basic and to the point, but wins at being very configurable. I can tell you right away that I usually weigh 66kg, which is 10.4 stone, or 145.5lb!

The best part? You can add your own software in the form of Java .JAR files. It's not quite that simple, the plethora of mobile phones means you'll tend to need to look for software specifically created for the phone, but luckily the 6230i was popular and has a lot available for it.
Here are some of my favourites:
Sideralis - http://sideralis.free.fr/ - this is a basic star chart for your mobile phone. Actually, given both horizontal and zenith views, constellations, and star information, it is a lot more powerful that it might look at first. At only 129K, this is a program that anybody who has ever looked to the night sky shouldn't be without - go find it now!
MTextReader - http://www.olnex.net/ - this is a text file viewer. Something you could argue the phone ought to do in the first place! Anyway, I was going to write my own but why bother when this software offers a 'bookshelf' so you can save the status of any given text file (useful, you can return to that point later on), adjustable text sizes and display colours... this is already arguably better than what I'd have put together, so I'll use MTextReader. My phone already has some of my sourcecodes that I can look through, the DiSEqC specification, and the lyrics to some of the Japanese songs as Hepburn-romaji and English translation. My only two criticisms are the odd times when the backlight fades out in the middle of something, and that for every data access the phone asks your permission (I don't seem to have the ability to tell the phone to just let the software access the filesystem); though I think these are phone issues, not MTextReader's problem.
I also have:
BlueBuddy2 - http://www.olnex.net/ - which uses the Bluetooth abilities to create a mini-chatroom on a personal-area-network (PAN). I don't really have much use for it, other than novelty value, as it requires a compatible phone running a version of BlueBuddy2; but I bet this gets quite a lot of use in classrooms!
OperaMini - http://www.operamini.com/ - no use to me until I get WAP/GPRS sorted, but the ability to have a miniature version of a 'real' browser on my phone? Too geeky an opportunity to pass up! It's a shame you can't give it "file://" style URLs to access content held on the phone. For one thing, it'd be a damn-sight simpler to check how parts of your website look on this sort of device by dumping the files onto the phone, instead of doing it live with the associated charges, which I think are something hideous like 20¢/10Kb on basic pay-as-you-go!
This, of course, doesn't mention the fact that I have most of the Nokia 6230i SDK on my computer. All I am missing is the Java environment, but I hope to sort that fairly soon so I can see about writing something for the phone.

I don't plan to write these, unless I really have to, so can anybody tell me where I might find: Chess, Draughts, tic-tac-toe (esp. if a 3D version), an Infocom game interpreter, and a Bluetooth scanner so I can see what enabled devices are nearby? I'm sure these things exist someplace - if you know, please email me!

Connectivity
The phone has IrDA, Bluetooth, and USB data cable. I don't have the data cable, so this restricts me to IrDA or Bluetooth, neither of which are terribly fast. Aiko does not have the IrDA active, I have set both serial ports to be serial ports, and also IrDA requires line-of-sight between the devices. This leaves Bluetooth which is slow, but probably not as slow as conventional IrDA. It also has the advantage of allowing a certain amount of movement. I only had one transfer fail on me so far, and that's because I was wearing my phone and I went to make a cup of tea... ☺
It is useful that the pairings work based upon the MAC address of the interface, so the USB dongle "appears" to the phone as Aiko, no matter which of the computers it is plugged in to. This provides me with a flexibility in how I arrange things, should I use Aiko or should I VNC it through the other computer?
Your comments:
Please note that while I check this page every so often, I am not able to control what users write; therefore I disclaim all liability for unpleasant and/or infringing and/or defamatory material. Undesired content will be removed as soon as it is noticed. By leaving a comment, you agree not to post material that is illegal or in bad taste, and you should be aware that the time and your IP address are both recorded, should it be necessary to find out who you are. Oh, and don't bother trying to inline HTML. I'm not that stupid! ☺ ADDING COMMENTS DOES NOT WORK IF READING TRANSLATED VERSIONS.

You can now follow comment additions with the comment RSS feed. This is distinct from the b.log RSS feed, so you can subscribe to one or both as you wish.




(Felicity? Marte? Find out!)



PS: Don't try to be clever.
It's a simple substring match.


Last read at 07:13 on 2023/09/23.





© 2008 Rick Murray

This web page is licenced for your personal, private, non-commercial use only. No automated processing by advertising systems is permitted.
RIPA notice: No consent is given for interception of page transmission.

Have you noticed the watermarks on pictures?