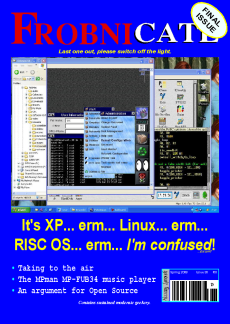 The latest (and final) issue of Frobnicate is issue 30, for spring 2008, released 2008/04/11 .
24 pages.
Within this issue you will find:
Keep the home fires burning
My final word on global warming, eco-taxation, and digging down to try to discover a bit of truth from all the rhetoric.


Go figure...
Why Frobnicate is coming to the end, diaper madness, yay RISC OS code for all!, geek terminology, animé, introducing Aiko and relative computer speeds, XP good-and-bad, and how an overly paranoid copy-protection on a DVD required me to copy it before I could watch it!


Review: MPman MP-FUB34
Another little MP3 player (this time a 1Gb model). Here's what I thought of it.

Flying without wings
I take to the air. Whooo-hooooo...

Musings on copyright
Some random yackage about copyright and what this means for computer users.


An argument for Open Source
As time goes by, Open Source software is becoming more and more a necessity. Here is my argument why.


Mom's Page by Stephanie-Jane Murray
Retirement, poetry, the future, and of course Dylan is mentioned...


Final Wrap Party
Reminiscence and fond memories. Possibly the hardest article I've ever written.



And the answer...

It is not mentioed in the magazine - it is here. The girl on the right is

Tiffany

, the picture being from the video for "

I Think We're Alone Now

".
This issue was created using OvationPro (v2.92 2007/12/24)
and converted to a PDF document using Office One PDF Manager v6
using an old generic PentiumIII box (XP / 128Mb / 450MHz).