What is TeleGuide?
So you have some stuff you'd like to watch on TV. You come home from work, sit down in front of the idiot box and wish to chill with something interesting and a big bowl of pasta.

But, you know, why waste time looking through the EPG when you can plan your viewing? You can make a note of all the stuff you'd like to watch - so you can see what's on when instead of having to look, and risk missing anything.

Question: how many times are you going to sketch out a grid to note down your choices? How many times are you going to scribble in corrections and programme changes before it gets to be a bit of a mess?
How many times are you going to do this: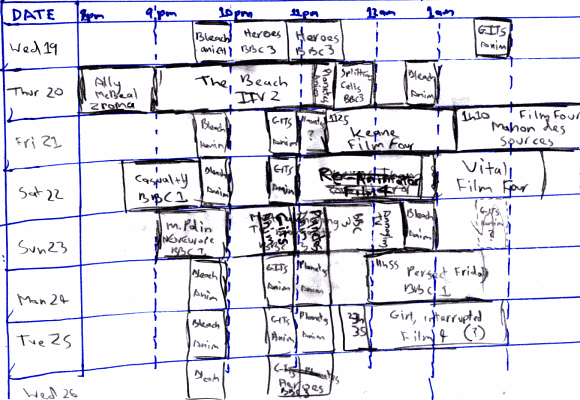 Wouldn't it be so much simpler to have a software solution? Wouldn't it be so much better to type in a list of those programmes you wish to watch (or, at least, be aware of so you can watch if you aren't doing anything better!), and then just press a button for a nicely formatted, clear, concise listing to be ejected from your printer moments later?
Perhaps, a little something like this?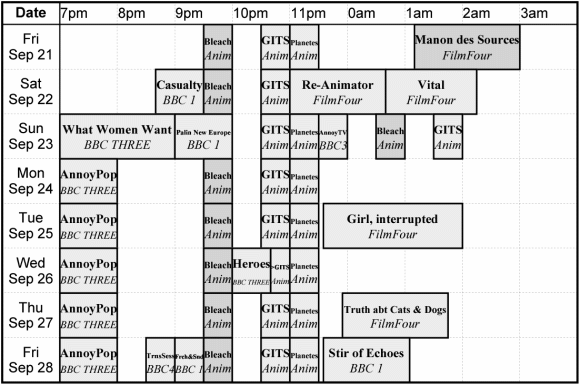 This is where TeleGuide comes in. Tell it what you want to watch, between 7pm and 4am, and it will print out the eight-day chart as shown above. You can even flag your favourite don't-miss programmes so they appear in a slightly darker box.
Alternatively, if you prefer to scribble but wish to do so more tidily, don't provide any programme details and TeleGuide will print a blank chart ready for you to pencil in your viewing choices.