mailto: blog -at- heyrick -dot- eu
Eurovision 2019 - the grand final
Let me tell you what "Like a Virgin" is about... I had the craziest dream last night... What came first, the music or the misery?... I remember those cheers, they still ring in my ears... Are you watching closely?... The world has changed, I feel it in the water. I feel it in the earth. I smell it in the air.

Opening lines from Reservoir Dogs, Black Swan, High Fidelity, Raging Bull, The Prestige and The Fellowship Of The Ring.

It seems like politics has been dumbed down to the point of people needing to have extreme opinions. On the one side we have supporting Israel is kicking Palestine and promoting murdering nutjobs while boycotting Israel is anti-semitic and hate. Funny, people watched football in Russia last summer. Forget Chechnya, forget nicking a chunk of Ukraine, gay bashing, and messing with Western democracies.
So, with that in mind, please allow me to take a third option. I'm here for the music. Anybody who has a problem with that can STFU.

Tonight I will be watching on BBC One HD, which seems to run to about 3.3GB per hour, so I'll need to keep an eye on the time and break the recording into hour long chunks.
The winner
Basically, if you're not Sweden, Australia, or The Netherlands, you can go home now.

For the rest? We can get this done and dusted in five minutes. Give them each a brick and lock them in a room. Who is left alive will be crowned winner.
Well, that will be Australia because she's so high up.

There, sorted it. Australia wins. We can all go and watch American Gods or The Vikings instead.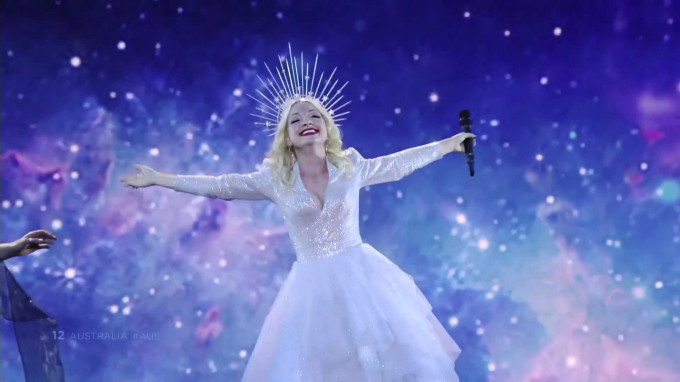 Image from semi final live stream
No pictures
Why waste time adding lots of links and pictures when you just just Google for a video of each performance on YouTube, or the entire live stream if you want. Go for it. It's a little over four hours.
Introduction and the flag ceremony
Oh my - Jon Ola Sand as a flight controller, managing to not look surprised. Whoa.

All sorts of lights guiding the plane to... what, are they going to crash that CGI plane into the expo centre? Well, give them credit for an interesting opening. A full sized model of the front of a plane, dancing hostesses, and in the middle of it Dana International trying to be Beyoncé? Back to the flag thing. All those triangles. Shades of Chocky? No?

A song from, when was it? 1973? I would have been about -7 months old when she was singing this to win the contest.

After 10 minutes, introducing the four hosts. Norton described Erel (the bloke with the glasses) as what would happen to Geoff Goldblum if he made really bad decisions.

The theme is dare to dream. Can I dream I've won the lottery so I can retire and spend my time sitting out in the garden with a mug of tea and a good book?

Not bad, instead of repeating the same voting stuff, they mashed up everybody from the past explaining it. Except for the French bit.
Fifteen minutes and fifteen seconds later, and we're finally off. Starting with Malta.
1. Malta "Chameleon" (Michela)
Is she wearing therapeutic socks? The colours on TV seem a lot more vivid than the live stream. It's quite garish. Is she saying I'm a chameleon or karma chameleon? Her voice is a little odd, so it's hard to tell.
2. Albania "Ktheju tokös" (Jonida Maliqi)
This won't win. Why? It's in second position. Fake fire and a red theme for the warrior princess and a serious ballad to follow Malta's pop song. The joy of Eurovision run order.
3. Czech Republic "Friend of a Friend" (Lake Malawi)
What's with the sort-of cockney? This is so cheesy. She's only a friend. Funny, where have we heard that before? It started out as cheesy and quickly hit annoying. Thank god that's over.
4. Germany "Sister" (S!sters)
Yes, there's an exclamation mark in the group name. <sigh>
Well, that's much simpler staging, with the people singing live and also on the wall projection. The thing is, a cute girl and simple staging won for Germany just a few (nine!) years ago.
This... is actually pretty good for a duet ballad, and they certainly enjoyed giving that performance. I liked that one.
5. Russia "Scream" (Sergey Lagarev)
Russia pulling out all the stops as usual. He has a very Russian face, reminds me of that guy in Dark World (Temny Mir). Impressive staging as we'd expect from Russia, just don't pay too much attention to what the words are.
6. Denmark "Love Is Forever" (Leonora)
Squeeeeee! Such a cute song. It's the giant chair song. A bit of Danish, a bit of French. And the way the song ends, so lovely. Do you guess that I like it?
7. San Marino "Say Na Na Na" (Serhat)
Right Said Fred has become a bad guy in an Austin Powers film. Tell you what, say na na na, followed by hey hey GOODBYE.
Some songs grow on you. This... I detest even more than the first time.

Norton points out that fifteen songs didn't make it through the semi finals, that did. Need we say more?
8. North Macedonia "Proud" (Tamara Todevska)
No more FYR rubbish for the northern part of Macedonia (clue in the name). Just, you know, close your eyes and imagine somebody like Streisand. It's a good strong performance. Not sure about the dress, but it's a great movie theme, no?

In the green room talking to the girl from Malta, and the not-sisters from Germany. Blonde girl is wearing a stuffed cat on her shoulder.
Now to a friend of a friend of a friend.
9. Sweden "Too Late for Love" (John Lundvik)
Here's the potential winner. Well, actually the bookies put this in third position now. Norton asks us to raise a glass to the memory of Terry Wogan. That's a good enough reason for me to crank open my Dr. Pepper.
You know, if this doesn't win the song contest, I can totally see it being released as a single. It's a good solid and well polished song.
And now the gospel inspired part kicks in. Tell me you're still sitting still. What's wrong with you? Are you deaf? Turn on the subtitles.
Another shining performance from Sweden.
10. Slovenia "Sebi" (Zala Kralj & Gašper Šantl)
Whip-lash change of pace. This song will probably suffer from following Sweden. There's a kind of... dystopian vibe to this, isn't there? I still like it, but I don't see what he is doing on the stage. She could do this by herself. No idea what the words are. She's giving him hope even though it's obvious that they're going to die when they reach their twenty fifth birthdays - think Logan's Run. I like dystopian films and I like this, though I'm not really sure why. Something about her voice.

Time to stop and restart the recording. We've reached an hour and we're only a little of a quarter of the way through.
11. Cyprus "Replay" (Tamta)
Ah, yes, the not-Madonna replaying a poor clone of Fuego. Jewel panties and extreme f**k-me boots is a cheap trick, but I guess it is necessary because of how horrid this song is. The audience seems to like it - why? <shrug>
12. Netherlands "Arcade" (Duncan Laurence)
The current bookies favourite with him and a piano, with Norton pointing out that the performance is so simple that he is upstaged by a light bulb. Loving you is a losing game, this is quite a dark one for being a winner (we'll ignore Jamala, that was surely political). This is quite... Coldplay with dashes of Freddie Mercury.
Currently the favourite to be the winner.
13. Greece "Better Love" (Katerina Duska)
Ah, the sword girls, butterflies (?) and bouncy ball, and another distinctive voice. This is bizarre as hell, like somebody has gone to town with the Rococo aesthetic, but it's actually quite likeable.

With Greece done, you know we're only half way through the songs? I ought to go break open my box of Celebrations.
14. Israel "Home" (Kobi Marimi)
The home entry. Heavy start. He is someone, and he is coming home. A serious song, and it is surprisingly good. A bit repetitive, but it's quite in the style of Russia, only dramatically better. Sorry, Russia, but you get the feels from this one.
Brilliant effort there.
15. Norway "Spirit in the Sky" (KEiiNO)
Come on barbie, let's go party.
This is classic Eurovision, isn't it? Euro-beat, overblown pop, some random ethnic stuff - but did you catch the audience singing along with that? I don't think Sámi has even been so popular. It's hard not to like this one. Bald bloke for the win.
16. United Kingdom "Bigger Than Us" (Michael Rice)
Here's the UK's entry. It doesn't have to live up to much, just get better than last place. Oh my God, was that intentional or totally off key?
Sorry - I'm watching Just Add Magic with my mother, and this bloke is like the 1950's Chuck. A pretty by the numbers male led power ballad. Okay, I'll be honest, this is better than the last decade of British entries. But it's not Love Shine A Light, so I'm not expecting anything much on the scoreboard.

North Mackadonia?
17. Iceland "Hatrið mun sigra" (Hatari)
Thunderdome, growling, leather, and chains. It's Mad Max Does Eurovision, isn't it?
I know Vince Hudd is watching and tweeting alone. Can't wait to see what he makes of this.

Just Googled for the Twitter link and Vince said it best - OMFG.
He got the Mad Max reference, but he thought it was more MM2 not MM3/Thunderdome. Either way, discussing this is better than dealing with what's on TV right now.
This, Björk, Sigur ros... much be long hard winters in Iceland.
Thank whoever the hell you believe in that this is finally over.
18. Estonia "Storm" (Victor Crone)
A bloke and his guitar and a good clap-along song, with a chorus that breaks the tempo. That seems to be a bit of a theme this year. Nice live video effect at the end. Very B movie, like that Syfy one about the magnetic alien tornadoes. Actually, he looks like he'd make a good lead character in just such a movie.
Hahaha! Vince got the same thought as me, but he referred to that Luke Perry movie "Storm".
19. Belarus "Like It" (ZENA)
Generic teeny-pop. This is actually the sort of song you'd expect from the older performers on the Junior Eurovision. Her clothes bear her stage name in spray-paint graffiti style. Nul pwah.

Recognise her? I was bugged by this for days, until I finally placed her. She was one of the co-hosts on the 2018 Junior Eurovision.
20. Azerbaijan "Truth" (Chingiz)
It's the medical robot song. A note held ridiculously long, but a little less than we have come to expect from Azerbaijan; but it'll get points for shut up about it.
21. France "Roi" (Bilal Hassani)
A guy with hair down to his waist and the most unlikely ballet dancer ever. It's a song about tolerance. Throw in a random Asian. Nice staging, but a shame about the song itself which seems to be the weak point here.
22. Italy "Soldi" (Mahmood)
Rap in Italian? I hear rap on the speakers in supermarkets from time to time and the funny thing is that if you close your eyes it doesn't matter what language it is, it all sounds so similar.
Credit to Italy, though, I don't think they've ever entered a song that wasn't in Italian. Was this the winner of the Sanremo contest? Isn't that how Italy usually picks its song?
23. Serbia "Kruna / Круна" (Nevena Božović)
Oh, the goth wedding now, all hail the metal spike bracelet. It's the Bolero song (I'll spell it correctly this time!). What I mean is that she reaches a crescendo in the first minute, but then there's a crescendo following that crescendo.
Serbia? Air guitar? Seriously?
24. Switzerland "She Got Me" (Luca Hänni)
# My name is Luca, I live on the second floor...
This is a dark horse entry, what is it, second or third place? Huge reaction from the audience. But, I dunno, it sounds a bit ... you can see this leading into the chorus of despacito. I guess that makes this song "contemporary".
Look, they're even taking digital glitching and turning it into an art form. Been done before though, Hello Sleepwalkers song Goya no Machiawase.

Another hour down, time to restart the video recorder.
25. Australia "Zero Gravity" (Kate Miller-Heidke)
Will she benefit from being the penultimate song? This song... whoa. Come on Australia.
Honestly, I think the semi-final performance was better, but none the less, an amazingly theatrical performance. Australia take Eurovision seriously. Something the UK seems unable to manage. Or maybe the UK is stuck on X-Factor wannabes.
26. Spain "La Venda" (Miki)
What, what? Spain performs in a house? How the hell did they stage-swap those two so quickly?
The house is reminiscent of A Little Less Conversation.
This is actually kind of good in a Las Ketchup kind of way. Perhaps the best entry Spain has given in years.
Not sure about the glowing wicker man? Come on, you know how that film ended...

Two hours and eight minutes later, it's time for a recap and the voting to begin.
My picks
Just missing out, Malta and France.
1. Russia - screaming for attention
2. Slovenia - quiet dystopia
3. Greece - rococo rocks
4. Norway - urg ho y ho la (or something like that)
5. North Macedonia - proud
6. Israel - music's coming home
7. Denmark - three girls on one chair
8. Germany - sisters!
10. Sweden - gospel goodness
12. Australia - come on ice/space princess!
Just reading though Vince's twitter feed as the recap plays. He seems obsessed with triangles tonight. I wonder how long it'll take him to realise that the Israeli flag is a circle made of triangles?
Interval act 1
Conchita looking really different to before. Shame his wardrobe wasn't ready in time. He's actually pretty good at Heroes. Must be unpleasant to be on a stage with dry ice while wearing that little.
No comment from Vince about this. Did Twitter rate-limit him? You'd have thought that Twitter would notice the #eurovision tag and disable limits during, you know, the world's biggest international live song contest.

Wait - hang on - is Mäns singing Fuego?

Eleni singing... what the hell was Verka's song called? You know, the one where he basically counts to three in German while wearing that iconic silver star outfit.
Of course, people watching for the first time will probably be wondering what the hell is going on.

And Verka? The chicken noises song. Nice, he threw in an eins zwei drei. What would Verka be without that?

Gali singing her song from 1979, along with Mäns, and then the others to join with the hallelujah chorus. Hey, if you're going to do previous Israeli entries, can we have Duo Datz from 1991? Their song is called "Kan" which is the name of the Israeli broadcaster (amazingly, I don't think they've mentioned this yet!). I liked that song.

Another recap while Norton does a lot of shout-outs. Time to pee and grab a Mars bar.
I'm back, and ooh, I found a pineapple piece from a happy meal yesterday. That'll do nicely.

Wait - what? What the hell is Madonna wearing? What's with the eyepatch? She's not Rikka Takanashi, but, wait, given that outfit I think we're more in the realm of Mei Misaki.
Interval act 2
Something in Hebrew with many ethnic instruments, alien landscapes in the background, and a wormhole opening behind them. Since it's Israeli the flag is prominent. I trust Vince has noticed all the triangles.

They interview... somebody. No idea who that was.

The mentalist/mind-reader thing again. Oh dear... Actually, Norton just said that he's done a different thing in every rehearsal. So, was that real?
Interval act 3
Okay, so here's nana banana by Netta. Come on, where's the cat? I'll be disappointed if there's no maneki neko somewhere in this performance.
Sorry Netta, this one was just bubblegum pop. It's a far cry from Toy. About the most controversial thing was "nana banana, I'll do what I wanna. Oh, a brief glimpse of a cat at the end there.
Finally, a visible wire-mount camera in the long shot.

Another recap, to remind us that we're here for the song contest.
Interval act 4
Finally Madonna. It's nearly midnight in France, and 1am in Israel. Okay, a minor cock-up there. Shall we talk to Luca or Madonna? Yeah, well, let's see who is more important here.

Okay, church bells and scary monks and really wobbly vocals for a performance of Like A Prayer, and another camera screwup. Well, it's been three hours. They're probably dying for a coffee hit. Perhaps the most surprising thing here is how flat Madonna's voice sounds.
Weird performance, and spot the religious imagery.
Now it's a spoken part with girls wearing flowers and gas masks. It reminds me of Angel's Egg.

Yeah, this is some weird apocalyptic stuff. Okay, that bloke interviewed earlier is her co-singer.

Impressive staging. But really really weird.

Finally the countdown as voting ends. I didn't vote, but if I did, it would be for Australia.

Somebody talking about Tel Aviv in three minutes. Was that guy riding on the road in an electric magic carpet?
The results - jury votes
Here we go. The jury votes. Jon Ola Sand is.... Jon Ola Sand. What more can we say?

Here's the lengthy bits. Gives plenty of time to sort out the televote.

Portugal gives 7 to Australia, and their 12 to The Netherlands. Bookie's favourite getting in instant 12.
Azerbaijan offers their 12 to Russia (a surprise?). Only 2 to Australia.
Malta giving 12 to Italy. Australia not doing so good here.
North Macedonia, 10 to Australia, 12 to Italy.
San Marino offer their 12 to Italy, now there's no surprise. I wrote that before she said it.
The Netherlands offer a mere two to Australia and their 12 to Sweden. Emma was... wow. Funny.
Montenegro offer 12 to Serbia. Their first 12 points. Funny that, Serbia and Montenegro.
Weird voice from Estonia to offer their 12 to Sweden.
Poland plugging JESC and offer 12 to Australia. Nice. Thanks.
Norway with Ryback to give their 12 to the Czech Republic.
Spain offer 10 to Australia and 12 to Sweden.
Austria wearing an Equality T-shirt offer their 12 to North Macedonia.
United Kingdom offering only 8 to the Ozzies, and their 12 to North Macedonia.
Italy, speaking Franglais, offering 12 to Denmark.
Albania, 12, North Macedonia again. This came out of nowhere, but it's been 15 of 41 countries so plenty of time to change.
Hungary, 12, Czech Republic. North Macedonia passing into three digits.
Moldova, 10 to Australia and 12 to North Macedonia again.
Ireland offer their 12 to Sweden.
Belarus, and I notice the UK is up to 9 points. 12 to Israel to final take them off of nil pwah.
Armenia, 12 to Sweden. I wrote that before it was announced too. Obvious was obvious.
Romania, 12. The yodelling girl give Australia a 12.
The Cyprus announcer is flying. Cool. 12 to Greece. SHOCKER!

North Macedonia currently in the lead with 135 (Sweden 2nd with 113).
Green room with Tamara, who says she's having a heart attack right now. It is a sadly stressful thing because there are another half of jury votes, and the public vote to turn everything upside down.
Now talking to Sweden. Second Mars bar. I'm going to get so fat.

Back to the votes. Australia now. Electric Fields? Whatever, 12 to Sweden.
Russia, with a bloke on the piano. Yes, I recall that from Young Musician. Nice callback. 12 to Azerbaijan.
Germany and the woman is better dressed this year - even if it is red and magenta. 12 to Italy.
Belgium and their 12 go to Italy again, to take him up to third place.
Sweden offering 12 to The Netherlands.
Croatia, will they vote for a Balkan neighbour? No, actually. It's 12 to Italy. I must have missed something about this song.
Lithuania, and his shirt says 12 points go to ....... That means The Netherlands. You kind of wish they'd just printed a country name on that shirt, especially if the country wasn't even in the contest.
Serbia's... she's called Dragona? She offers their 12 to North Macedonia.
Iceland give their 12 to Sweden.
Georgia, 12, Czech Republic.
Greece, EBU logo hard rock style. 12 to Cyprus. SHOCKER!
Latvia, she called Lawa? Whatever, she's cute. She gives their 12 to The Netherlands. Puts them third.
Czech Republic give 12 to Sweden.
Denmark with the epic viking bloke. North Macedonia has 10 points to take them to 209, and 12 to Sweden.
France now, with a very smartly dressed girl and announcing in English and French. Their 12 to The Netherlands. Everything on the upper left of the board is actually pretty close.
Finland, 12, Sweden. Only five points off North Macedonia now.
Switzerland, 12, North Macedonia.
Slovenia with blue hair give their 12 points to Czech Republic. Nothing to Australia. <blows raspberry>
Israel round up the jury votes with their 12 points to The Netherlands.

At the very last minute, Sweden claims first place, a difference of two points. 239 vs 237. Australia has 154.

With the jury vote done, Sweden is the winner, with North Macedonia just following. But, wait, it's the public vote now. Let's see if this will turn everything upside down.
The results - televote
There's Jon Ola Sand looking very excited.

Did anybody get zero?

Okay, here goes. Last is Spain with 7 points, and Israel with a poor 12. UK next with 13.

53 points to Spain.
Israel get 3 points. Oh, they're doing it by country, not points.
Oooh, THREE points to the UK. Ouch. The UK is now officially last. Yet again.
San Marino got 65 points.
Belarus, 13 points.
Germany, ZERO points. Oh, my. It wasn't that bad.
Estonia, 48 points.
Serbia, 54 points.
Albania, 47 points.
Slovenia, 59 points.
Greece, 24 points. Low!
Norway, two hundred and... I didn't hear it over the cheering. Huge!
Iceland, 186 points. Holy Crap. And Germany nothing. Pffft!
France, 38 points.
Cyprus, 32 points.
This is a bit savage, isn't it?
Denmark, 51 points.
Malta, 20 points. A close-up of her face as it was announced.
Russia, 244 points to put them in the lead.
Switzerland, 212 points.
Czech Republic, 7 points.
Australia now, please.... One hundred and thirty one. Fourth place.
Azerbaijan, 100 points, pushing Australia to fifth.
Italy, will they win it? 253 points, pushing them far into the lead with 465 points (a lead of 96 points).
The Netherlands, 261 points. That puts them into first place now, with 492.
North Macedonia, 58 points. Oh my. Painful.
Finally, Sweden. Will they win it? It's them or The Netherlands.
Sweden will need 254, and they got given...... ninety three points!?!? Only 93 points? Seriously?

The Netherlands and light-bulb guy is the winner. The Netherlands last won in 1975 with... what was it, ding-a-dong?

The UK televote offered 10 to Australia and 12 to Norway.

Yes, Norton just said '75 and ding-a-dong.

Germany got 32 points, Slovenia 105, Denmark 120, and......Iceland 234. That's just so wrong.
The winner
Australia 9th with 285. Shame, I liked that. As for the rest of the scores, they flashed by too quickly.

That said, it's nice that a serious song won. Not bad, we're only going to be about nine minutes over time. Recap and steadicam operators in shot. Not a surprise, he isn't on his piano and this bit is not rehearsed.
After the end
Nothing. It's gone 1am. Thank god it's not a work day tomorrow.
I guess, next year, it'll be Amsterdam or something. And, you know what? The bookies got this one right.

Good night.
Your comments:
Please note that while I check this page every so often, I am not able to control what users write; therefore I disclaim all liability for unpleasant and/or infringing and/or defamatory material. Undesired content will be removed as soon as it is noticed. By leaving a comment, you agree not to post material that is illegal or in bad taste, and you should be aware that the time and your IP address are both recorded, should it be necessary to find out who you are. Oh, and don't bother trying to inline HTML. I'm not that stupid! ☺ ADDING COMMENTS DOES NOT WORK IF READING TRANSLATED VERSIONS.

You can now follow comment additions with the comment RSS feed. This is distinct from the b.log RSS feed, so you can subscribe to one or both as you wish.
VinceH, 19th May 2019, 10:58

Re Iceland and Mad Max 2: I tend to always think of MM2 as the 'reference' material for that type of style in post apocalyptic films. Some went further down that path, and some were probably already part way in that direction before it, but I think MM2 was the one that properly brought that sort of look in that sort of film to the fore.

I also missed a trick there. I could have mentioned Duran Duran's Wild Boys video for another 1980s music reference. :)

*looks up the Israel flag*

Ah, I see - but that's not a circle made of triangles. Surely it's the Star of David? (Which, granted, is made of two triangles).

I wasn't rate limited this time. :) I hadn't eaten all day, so I used the voting interval as an opportunity to prepare something, and comments became a lot less frequent while I dealt with that important matter.



David Pilling, 19th May 2019, 13:41

2019 - TV has to fill more time for its money

Rick, 19th May 2019, 22:16

Upon a rewatch of some of it, I think Malta is singing "chame-chameleon".

Germany, first verse: I tried to hold you under, but honey you kept breathing". Um.



David Pilling, 23rd May 2019, 13:29

It's not over until the international court for arbitration sings, and 23rd May, the result has been revised. UK is still loser, but more so. Now we know why the hesitation on Saturday night when they asked the EBU boss if everything was OK - nope, winging it.

Rick, 23rd May 2019, 20:40

Yeah, I heard. Frankly I'd have just stuck with the original scores and "learned a lesson" rather than rejigging everything days after the final scores had been announced.
Belarus screwed up. The EBU screwed up harder.

J.G.Harston, 16th June 2019, 03:19

People didn't know what they were voting for, can we run it again?




(Felicity? Marte? Find out!)



PS: Don't try to be clever.
It's a simple substring match.


Last read at 14:50 on 2023/12/04.





© 2019 Rick Murray

This web page is licenced for your personal, private, non-commercial use only. No automated processing by advertising systems is permitted.
RIPA notice: No consent is given for interception of page transmission.

Have you noticed the watermarks on pictures?