mailto: blog -at- heyrick -dot- eu
Amazon Pantry
I recently placed an order with Amazon's Pantry service (and trialled Amazon Prime in doing so).
I marked the help message that I received (quoted in the aforementioned entry) as unhelpful and that it didn't answer the question.

I stated my question again, in French and English. I received back a reply written in gibberish (it was French, but with all of the accented characters converted to HTML glyphs!). Another apology, and another reminder that there are numerous holidays this week. However this time the situation has been escalated to having the expedition team notified.
Well, a few hours later the parcels (for each was dealt with separately) were sent. The confirmation emails say delivery expected Monday for one and Saturday for the other - even though the shipping confirmations came only a minute apart. Chronopost later sent me a confirmation for each parcel to tell me that they will both be arriving tomorrow...
That is as good to "next day" as I can expect in a week with two public holidays. Fulfilled on Monday, add a day due to the chaos, arriving on Friday.

Another thing that turns up is that the Pantry navigation is not that bad when you are using a desktop style browser. It is quite unpleasant using mobile mode or the Amazon app; however with a browser in desktop mode, you have this: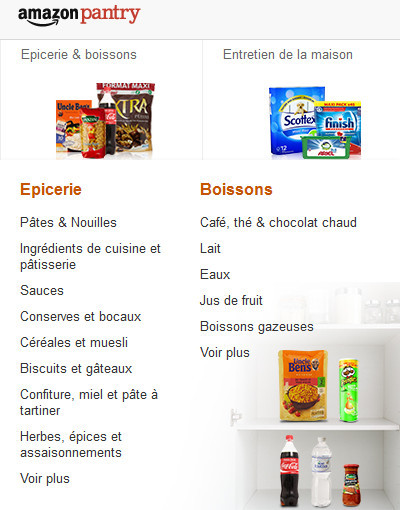 That's much better. Additionally, the range is increasing as well. I don't know at what rate they add products, however I do know that now they are selling UHT milk (this is one of the suggestions I made earlier) and Heinz baked beans (regular or organic). I know these were not available on Sunday as I specifically searched for both at the time.

As I said, if Amazon play this right they could capture a fair chunk of market share from existing supermarkets. The prices seem comparable to what one would pay elsewhere, the shipping is reasonable, and the direct-to-doorstep delivery certainly has its attractions. Clearly this precludes fresh and frozen products as well as fresh produce (unless Amazon would consider some sort of polystyrene box with ice packs - but now we're getting silly); however there is a wide variety of products available in tinned or other long life packaging to make the venture worthwhile.

If I could add a few product ideas:
Spaghetti hoops in a can (it's a Brit thing)
Tinned pineapple and tinned peaches
Some sort of bread that resembles bread - in French terms, think "Harry's".
Eurovision 2018 - second semi final
The satellite signal isn't coming in so well tonight. BBC Four must be one of the weaker transponders, or a spot aimed more at the UK than some of the others.
I think it's come to a strange world where I can receive horror channel but not FilmFour. At the moment the signal has dropped out entirely, so as a backup I have set up my phone to watch the live stream on YouTube. Never done that before, I wonder how it'll work? There's a part of me that will be happy to not have to listen to the commentary...

I notice from the YouTube videos for the Eurovision channel that the Planet Portugal video is marked as "part one". Brilliant. More FURY over the STUNNING and OFFENSIVE mocking that DESTROYS Sir David Attenborough. Please please please suffer a technical hitch and play that twice. All of the Express readers really want you to. ☺

So, here we go. I'm armed with Mars, Kitkat, and Twix. And since that isn't the most healthy of things to eat, I have a little brick of pineapple juice. Here I am about to watch a live stream of the contest. I haven't done this before, so it'll be interesting to see how well it works and what quality I end up with. The second semi-final at 480P runs to a gigabyte. That, spread over two and a bit hours, well within the capability of my internet connection.
Excuse me for a moment while I listen one last time to When We're Old. Seriously, in my personal ranking that must be one of the best songs this decade.

While I'm waiting for the stream to start, I will talk about the first song. It's from Norway. That isn't important. What is important is that it is a certain Alexander Rybak. Now there's no shame in representing your country multiple times, however there is an implied danger in being a returning winner. What if you don't pull it off a second time? Have you lost what it takes? Were you just not good enough? All of those questions will be spinning around in people's minds. It has only happened once in the history of Eurovision - Johnny Logan in 1980 and 1987, plus writing the song that won in 1992. Dana was unstoppable in 1998 but failed to qualify in 2011. Carola was a sure bet in 1991 but she "only made fifth" in 2006 (while the UK would faint in shock at coming fifth, it's Sweden we're talking about!). Lena won with her quirky-as-hell accent in 2010, but wasn't so lucky entering the very next year. Okay, 10th place isn't bad these days, but it's not a double win. The way it should work: Dima Bilan brought Russia a second place position in 2006. Not satisfied with that, he went back a mere two years later and brought Russia their first win.

So, to Alexander. There's a part of me that hopes he will win a second time, if only to be the second person ever to have done so. But I won't hold my breath. It's a strong contest, and I have a suspicion, judging by the song title, that Mâns Zelmerlöw and Petra Mede might have already done better with "Love Love Peace Peace" that was a funny little interval number that managed to totally upstage the entire rest of the concert. Indeed, it featured a certain Mr. Rybak. Hmm... maybe that's where he got the idea?

Okay, we're up in forty five seconds. Let's get ready to roll... [fx: unwraps Mars bar]
Introduction
Well, the live stream just stopped and seemed to vanish. So I had to search for it again, and this time it found the stream. I'm not sure what the quality is, not it looks better than the TV broadcast. Ooh, the little text of the country list is readable. Is this 720P?

Now I can watch the presenters dropping in a reference to Allo Allo, without the annoying BBC commentary. Here we go, here's the 1,500th song in Eurovision history (really? 1,500?!?).
You can watch too
1. Norway "That's How You Write a Song" (Alexander Rybak)
Rybak - is he human? He doesn't look to have changed at all since we last saw him. Interacting with the video effects is a change from interacting with the video wall, but it must look weird to the audience. This was better than I was expecting, with a jazz vibe and, of course, some violin action. I think we can say that this will qualify (it is Sweden), but I don't see this being a winner.
2. Romania "Goodbye" (The Humans)
The Humans, huh?
Loads of mannequins, a low pitched woman, and a song of relationship pain until the song kicks up a couple of gears and the woman becomes Bonnie Tyler. I quite like the staging and visual presentation of this.
3. Serbia "Нова деца / Nova deca" (Sanja Ilić & Balkanika)
Oh, now a techno-ethnic song from the Balkans. You sort of imagine these guys to be walking through a forest at night carrying flaming torches. According to Wiki, this song is in "Torlakian dialect", from the south east of the country. This is delightfully gothic.
Just as a throw-away, the third entry of the first semi-final was also the first not in English. As for the song title above, the glyphs are correct, it is marked as Serbian cyrillic, but still it's note appearing correctly as title text in Firefox - it should look like Нова деца (which is the exact same markup - go figure).
4. San Marino "Who We Are" (Jessika featuring Jenifer Brening)
It's the song with the robots. It started as a very Eurovision style ballad, until the feat. person came along to throw in some rap - a genre that never does that well at Eurovision.
Still, I like the little robots.
Oh, wait, hang on, did they just say "Thank you" in a dozen languages at the end there?
5. Denmark "Higher Ground" (Rasmussen)
Hmmm, it looks like another techno-gothic song, this time with more than a passing reference to Nordic/Viking history. This is more pop leaning, but the trench coats and walking in place in the middle of a snowstorm. That... actually was pretty good.
6. Russia "I Won't Break" (Julia Samoylova)
The Russian entrant who couldn't participate last year for various reasons. Perhaps the most interesting thing here is that she is hiding the wheelchair with a glowing dress-thing that isn't a patch on the Estonian dress. Why hide the wheelchair? Poland's entrant in 2015 didn't.
As for the song, I think the wailing backing singers spoil it. I don't much like this one. Would have been better with just Julia.

A chat with Alexander Ryback. Pronounced as ree-back, so I've been saying it wrong all these years. A brief chat with San Marino's robot and the stormtroopers from Denmark, where the woman gets a thrill from stroking the beard, not to mention getting the guys to say "We love cuddly kittens" in the most bad-ass Viking way possible.
I'm sure much funnier than whatever crap the BBC showed at that point.
7. Moldova "My Lucky Day" (DoReDoS)
What is this? The Monty Hall problem? A strange... A polka? Shame the acting is so wooden, and the opening doors thing is... something from the eighties.
8. The Netherlands "Outlaw in 'Em" (Waylon)
Okay, this is different. Some good hard country-rock only slightly marred by two of the guitarists spazzing out in the middle. Now they're all doing it. The song is pretty good for those who like the genre, the staging leaves a lot to be desired. Still, it looks like it got some applause from the crowd.
9. Australia "We Got Love" (Jessica Mauboy)
First of all, subtract a billion points for being a country with English as its native language entering a song with a title as grammatically awful as "we got" in a sense not implying displacement ("we got lost") or past tense ("we got what was left").
The vocals are a little wobbly for this, but one thing is sure - that Australia gets Eurovision and this is a very Eurovision style song. I would be quite surprised if this chart-worthy song didn't qualify.
10. Georgia "For You" (Iriao)
A man who looks like a Bond villain singing in Georgian. Are they trying to be The Tenors? The harmonising is way off. Converse to Australia, I would be surprised if this does qualify. Especially with the level of entrants this year.
11. Poland "Light Me Up" (Gromee featuring Luka Meijer)
Leather and cowboy hats for the postcard, and even more for the stage outfits. Well, credit for them doing the postcard in character. This is almost right out of the book of how to write a Eurovision song, with the exception that he's trying to hit notes he can't quite reach. Well, okay, they seem to be enjoying themselves, but it's a rather meh song isn't it? I guess the color (sic) of their lives is shiny leather black...
12. Malta "Taboo" (Christabelle)
Hang on, I saw some C code flash by. Interesting staging. This is what happens when somebody watches all of the parts of The Matrix and then writes a song arguably better than After Forever. Oops, the streaming hiccuped - too much going on for the bandwidth to keep up. I like this one, the staging really makes it.

Another cut out where the presenter goes to Russia, Poland, and Australia. Then they ... some sort of Portuguese pasty the name of which I don't recall.
13. Hungary "Viszlát nyá" (AWS)
AWS? This is being performed by Amazon Web Services? Damn, that whole AI thing is coming along in leaps and bounds, isn't it? ☺ The third entry of the night in a local language, and we're straight in for some hard rock or soft metal. Sorry Hungary. One of my favourite groups is Nightwish, but screaming and yelling does not a vocal performance make.
14. Latvia "Funny Girl" (Laura Rizzotto)
Funny Girl. Wasn't that a Streisand film? A sultry song about how messed up love can get. Of course being dressed in red is more than just a subtext; she tore down her walls and wrecked the ceiling. Nice performance and a nice reminder why I'm still single. It's so much less complicated that way.
15. Sweden "Dance You Off" (Benjamin Ingrosso)
Okay, Sweden now, and while Sweden has been the sound of Eurovision for so many years, it is quite a surprise to hear a song that sounds like a boy band offering from the early '90s. Oh my. Falsetto and "robotic vocals". Dammit Sweden, this sort of thing was popular before your performer was even born!
I don't like this one, because I pretty much hated the entire boy-band nonsense.
16. Montenegro "Inje" (Vanja Radovanović)
Here's some quirky staging, and the obligatory ex-Yugoslav country entering a song that sounds like it is mourning something in the most dramatic way possible. This one really goes to town with the concept of melodrama.
17. Slovenia "Hvala, ne!" (Lea Sirk)
Here we go, two local language songs back to back. It's almost like Eurovision of old. A dance track that likes flashing the lights; along with a silent bit in the middle as if the music stopped. Well, she gave it everything, didn't she.
18. Ukraine "Under the Ladder" (Mélovin)
Well that was different. The piano was his resting place, which he rose up from. Does he have a fake eye or is that some sort of contact lens? Right, so the stairs are on fire instead. And the piano keys aren't going down when he "plays" them. You see these sorts of details at 720P. ☺ Still, pretty impressive staging here.

Okay, that's it. All songs have been presented. Now it's time to vote...or not...depending upon what country you are in.
My picks
Oh my. This is going to be hard.
1. Monteegro - Balkan melodrama.
2. Latvia - Beware the women in red.
3. Norway - Rybak's back.
4. Australia - Taking this seriously.
5. The Netherlands - Rocking the country.
6. San Marino - Robot guy.
7. Serbia - Techno-gothic.
8. Malta - int main void
10. Romania - All of them humans.
12. Denmark - Vikings for the win.
Interval act
The woman in blue makes a passing reference to the Eurovision CD and DVD. With all of the resolutions and official videos on YouTube, isn't the DVD a little... outdated?

A recap of some the stranger performances and dress sense in "ESCopedia".

Now a sort of recap through the decades with the presenters acting the part.

Funny that they refer to Genghis Khan - I can't help but think of the Berryz Kobo version of that. Oh look, they remembered riverdance - the most famous Eurovision dance that wasn't even an entry.

Here, take a detour - see what J-Pop manages to do with a German Eurovision song about an Asian bloke (in)famous for rampaging his way to the biggest empire in human history, though they did tone down the lyrics...for obvious reasons.

Another recap, and I'm going to swap Romania and Denmark. It's Vikings for the win, right? I would be surprised if Hungary qualifies. Which no doubt means it will, my luck is like that...

Sorry guys, I have not voted. I don't even know what France's voting number is. Well, too late. It's done.

Now a vignette of everybody enjoying what Portugal has to offer. The sea looks nice. Far better than Bugger Bognor, as King George V famously said as his last words.

Lovely, it's another chance to annoy the British snowflakes. Planet Portugal! The Portuguese trying to survive in a world where coffee is no longer coffee but has weird ingredients and even weirder names.

An interesting history. In the '70s, a Eurovision song brought freedom to Portugal. Just to demonstrate the power of music.

A talk with three British fans (dressed as sailors) in their first visit to the contest.

Now a preview three of the auto-qualifiers after a chat with them:
France - an a capella rendition of Salvador's song in French. The French song, in French of course. I think this one is better than some recent ones.
Germany - another powerful song to make this grand final be a hell of a thing to pick who to give points to.
Italy - a song with a more political message from Italy, of course in Italian. The message? Enough is enough.
The results
Mister Jon Ola Sand yet again looking surprised to be on camera. They have a valid result so all is good to go.

So, presented in random order as the contest is already in overtime:
Serbia - I could imagine this, yes.
Moldova - Okay...
Hungary - Seriously? That?
Ukraine - piano guy.
Sweden - not a surprise, it is Sweden, but... my.
Australia - of course.
Norway - again this isn't a big surprise.
Denmark - of course the Vikings, them out would have been wrong.
Slovenia - uh, I don't remember... oh, the pink haired one.
The Netherlands - the country.
We end only fifteen minutes over time and... seriously? We're supposed to make sense of those credits? It's gibberish even in HD!

Credit now to YouTube. The stream only flaked out during the Maltese performance, and the app (running on my phone) coped admirably with the two times the WiFi dropped out, picking up where it left off once the connection had re-established itself. Myself, and 68,000 other people enjoyed the broadcast that way. I don't have a recording of this (yet), but overall it was every bit as good as watching on the TV... but without the god-awful cringe-inducing commentary and without the naff "here's something else" parts. I'm wondering if I ought to watch Saturday on BBC One or YouTube...
After the end
Sad that Romania and Malta didn't make it, but Serbia and Denmark did. I can't believe that Hungary qualified. And Sweden...
The non-surprise qualifiers are Australia and Norway.

Now I've heard enough to think about the grand final. I would absolutely love for Lithuania to win - I've listened to "When We're Old" near endlessly. In terms of songs that could stand a chance - Australia if her vocals improve, Denmark could bring this one home. But don't forget the selection from the first semi-final, the message from Ireland, the power of Finland, or the random clucking from Israel. But, you know, they could all just be blown aside by a nice song with a good vocal performance such as Austria. There is such a diversity, the grand final is not going to be any easier than the semi finals. And, like with voting through Hungary's shout-fest, the one thing we can be sure of - what Europe votes will not necessarily make any sense.

At this time, Oddschecker gives the top five as:
Cyprus 2/1
Israel 6/1
France 8/1
Lithuana 10/1 ☺☺☺
Norway 16/1
They still reckon Cyprus, but... Who knows.

See y'all in two days for the grand final where they duke it out for the glittery glass microphone - there can be only one! [except in 2001 when the host "accidentally" dropped it, the gag completely ruined by Wogan]
Your comments:
Please note that while I check this page every so often, I am not able to control what users write; therefore I disclaim all liability for unpleasant and/or infringing and/or defamatory material. Undesired content will be removed as soon as it is noticed. By leaving a comment, you agree not to post material that is illegal or in bad taste, and you should be aware that the time and your IP address are both recorded, should it be necessary to find out who you are. Oh, and don't bother trying to inline HTML. I'm not that stupid! ☺ ADDING COMMENTS DOES NOT WORK IF READING TRANSLATED VERSIONS.

You can now follow comment additions with the comment RSS feed. This is distinct from the b.log RSS feed, so you can subscribe to one or both as you wish.




(Felicity? Marte? Find out!)



PS: Don't try to be clever.
It's a simple substring match.


Last read at 03:54 on 2023/12/01.





© 2018 Rick Murray

This web page is licenced for your personal, private, non-commercial use only. No automated processing by advertising systems is permitted.
RIPA notice: No consent is given for interception of page transmission.

Have you noticed the watermarks on pictures?