Alyson Hannigan
If you like this, please tell me, and also tell your friends!
Thank you.
I always wonder, if Alyson were to visit here, what would she think? Is it kinda creepy looking at lots of pictures of yourself whizzing down the line from thousands of miles away?
My Stepmother Is An Alien:
Touched by an Angel: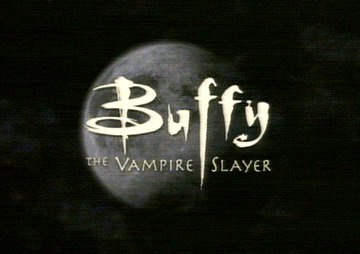 As Willow in Buffy the vampire slayer:
Without a doubt, Alyson's most prestigious role has been as "Willow" in Buffy the Vampire Slayer.

Images are shown in a "<number>.<number>" format. The first number is the count of images with Willow, the second is a count of other non-Willow images.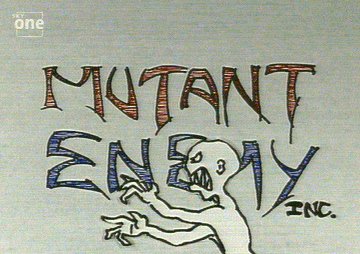 Grrr aargh!
Season 3 is here more than any other, as that is the series that Sky One was currently (as I revised this area) showing daily.

Due to a special feature night, episode 3.21 was rescheduled.
Typical of Sky, they didn't bother mentioning this. I guess they expected you to push the TV guide button on the digital remote...
So, damn, I missed one episode from season three.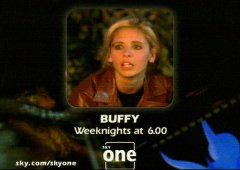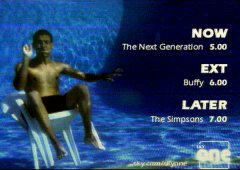 On the left, a Sky promo advert. On the right, everybody can make mistakes (17:00h, 14/08/2001).

Season four, with the sexier shorter hair!
Other images:
Alyson's filmography (to 2002):
My stepmother is an alien (1988)
An alien (Kim Basinger) who is guided by a big eyeball in a handbag (!) lands on earth to befriend a astro-scientist (Dan Aykroyd). Alyson plays 'Jessie', the teenage daughter of the scientist.
Sorry, no images (yet).


Free Spirit (1989-1990)
Winny Goodwin is an immortal witch who is sent to earth, somewhat reluctantly, to do work with a (mortal) family. American, of course!
Alyson plays 'Jessie' (again!), the daughter of the mortal family.
American TV series, unlikely to be (re)broadcast in the UK.


Switched at birth (1991)
A made-for-TV movie, presumably about a family who's baby/babies are (accidently?) swapped around. Alyson plays the teenage 'Gina Twigg'.


The Stranger Beside Me (1995)
A made-for-TV movie that my installation of IMDb says little about!
Alyson plays 'Dana'.


Buffy the Vampire Slayer (1997 - present)
Um, well there's this blonde girl and these undead guys with a severe leather fetish. Assisting this blond girl are an old British bloke, a redhead once-geek now-lesbian-chic, a guy who thinks he's funny (and sometimes is), and an assortment of others who refer to themselves collectively as The Scooby Gang (formerly The Slayerettes).
Alyson plays 'Willow Rosenberg'. She's not the guy or the blonde one.


American Pie (1999?)
My IMDb installation doesn't cover this movie, but... I'm sure you know of it. Alyson plays the flautist who, erm, used her flute in a rather novel way (not in the film, though!).
No images (yet).


Hayley Wagner, star (1999?)
Saw this one on Sky Premier before it closed on analogue. My offline IMDb doesn't list it as it is too modern for my database.
Basically, it is about an annoying teenage actress who decides to 'retire' one day, but her money is all tied up in long term things as one doesn't retire at her age. So she has to go to school and 'be normal', alongside a collection of utter oddballs. Alyson plays a very brief part as a grown up version of what Hayley once was, the bitchy 'I want it my way' actress.
It isn't a bad movie, although it is extremely 'fluffy'.


American Pie 2 (2001)
At my local town there is a big poster advertising American Pie 2, with Alyson smiling from the bottom left of the lineup. I wonder what the French people make of it all?


Also guest appearances in series such as Touched by an Angel and Almost Home.
And...
American Pie 3 (American Pie: The Wedding) (2003?)
Saw this on ITV recently. Not bad, but lost the plot a little. Apparently there have been two/three/four (?) subsequent "American Pie" movies, but the guys we know had the sense to stay out of it.
Talking of sense:
Date Movie
What was she thinking!?!?!? Seriously, what on earth was going through her mind when she agreed to do this? If she wants to show she can do comedy, could we see her on Lizzie Maguire or something, because Date Movie was... let's put it like that, there are numerous words I could use to describe it, none of which are polite...
Dreaming Of The Future
What would be cool is a spooky movie (or, failing that, a zombie flick) where the two protagonists are... let's see, hospital nurses or something. They are like 'the only ones that can save mankind' (or something amusingly daft like that). Played, of course, by Alyson Hannigan and also Jennifer Love Hewitt. They are girls in the girly sense of the word (as opposed to the Sigourney Weaver/Ripley sense!) and they don't scream, leave that to a cameo by Jamie Lee Curtis...
(mmmm, got some ideas coming, better switch to my scriptwriting software and note them down!)
Miscellanea:
If you liked this...
Most of the older domains are cybersquat. :-(
Here's what remains, January 2010.
---
Return to site main index
---
HTML © 2001 Richard Murray; basic revision 2002/2008